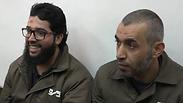 Abed Rabbo and Aliyan
Photo: Daniel Elior
Two Palestinians were sentenced to time in prison on Monday after being found guilty of planning a terror attack inspired by the Islamic State organization (ISIS).

Musab Aliyan and Samir Abed Rabbo, both residents of east Jerusalem, built an explosive device and planned to use it against an Israeli security forces vehicle in the capital.

Aliyan was sentenced to 10 years in prison, while Abed Rabbo was sentenced to nine years.

According to the indictment, the two conspired to carry out the attack in the name of ISIS.

Aliyan, 24, began supporting the organization in 2014. He attended a religion study group, where he was introduced to the ISIS ideology.

He saw himself as part of the extremist organization, identified with it, and supports it, the indictment notes.

In October 2015, Aliyan tried to join the ISIS ranks in Syria. He left for Jordan to issue a Jordanian passport with which he could travel to Turkey and thence to Syria, but he was arrested by authorities in Jordan and deported back to Israel several days later.

After returning to Israel, Aliyan began gathering funds so he could ask the Turkish consulate for a visa to the country. He also looked into the possibility of getting to ISIS in Syria through the Sinai Peninsula.

During that time, the second defendant, Abed Rabbo, followed ISIS's activities via the web and learned more about the group.

In late 2015, Aliyan decided to carry out an attack and sought Abed Rabbo's help, as he knew the other man had experience in building bombs.

According to the indictment, the two purchased a cell phone to be used as a remote control to detonate the explosive as well as a coffee grinder to grind the materials needed to create the explosive. They also bought an ammeter and iron oxide powder, also for the bomb.

Later, they also met to discuss the additional materials they needed to complete the bomb as well as how to carry out the attack.