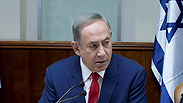 Netanyahu defends his tweet praising plan for US-Mexico wall
Following criticism from both Israeli ministers and the Mexico government, Prime Minister Netanyahu doubles down on his tweet that hailed US President Trump's plan to build a wall along the US's southern border; 'President Trump praised the fence built according to my guidance along the border with Egypt,' says Netanyahu. 'Who even mentioned Mexico?'
Prime Minister Benjamin Netanyhau responded on Monday to the current strain on Israel-Mexico relations, following a tweet he pose that hailed US President Donald Trump's promise to build a wall along the US-Mexico border. His tweet had already garnered the condemnation of the Mexican Foreign Ministry and criticism from Israeli Interior Minister Aryeh Deri (Shas).

Netanyahu referred to the diplomatic crisis during a Likud faction meeting. "President Trump praised the fence built according to my guidance along the border with Egypt. He said it almost completely halted illegal infiltration to Israel, and I said he was right. As a result, he retweeted what I wrote. And from this molehill the commentators have made a mountain in the press.

"These are the same commentators who said that I should have given up on Israeli security assets to maintain good relationships with the previous president. And now they're saying 'You hurt Mexico, you've ruined our relationship with them'. Who even mentioned Mexico? We had a good relationship with them, and we will continue (to have one). Even when there are real disagreements, such as their vote in UNESCO.

"But to distract from the fence's fantastic success in the South when it comes to blocking infiltration, a success that has been recognized the world over and first and foremost by the president of the United States? This doesn't surprise me. The left-wing media has been on a Bolshevik hunting spree, a brainwashing campaign and has been carrying out a character assassination against me and my family. They create a barrage of false reporting on us, what's been referred to as 'fake news'. They put endless pressure on the attorney general and law enforcement officials to issue an indictment against me by any means necessary.

"And why do they do it? Because ever since the founding of the State of Israel, the left has controlled the media and other sources of power in an undemocratic way, and I'm the first right-wing prime minister who has tried to change it, who has dared to try and change it. So they're doing everything they can to get rid of me, to allow the left to continue to hold control of the sources of power, in contrary to the will of the majority of the people, who are right-wing. We won't let them do this, they won't succeed."

Mexico Foreign Affairs Minister Luis Videgaray responded to Prime Minister Benjamin Netanyahu's tweet from Sunday, in which he hailed US President Donald Trump's plan to build a wall along the US-Mexico border .

"Mexico is a friend of Israel, and it must be treated as such by its prime minister," wrote Videgaray on his Twitter account, in a retweet from the account of Mexico's Foreign Ministry. He added that Netanyahu's tweet is irrational and that it felt aggressive, stating that Israel should clarify its position on the matter, in addition to having Netanyahu apologize.

Videgaray brushed off Netanyahu's statement that he was not referencing the United Mexican States. "In Mexico we all know that when Trump's wall is mentioned, it is a reference to a wall with Mexico," he said.

Jews in Mexico have responded with heightened concern and condemnation of Netanyahu's tweet. "We think Netanyahu has opened his mouth without reason, he shouldn't have been for or against (the issue—ed), it's useless," said Mexican Daniel Dorenbaum to Ynet. "As a very Zionist community, we are very supportive of the State Israel, but things are sensitive over when it comes to the wall. People think that all Jews believe the same thing Netanyahu does, and that's not the case."

Dorenbaum continued to say that the Mexican Jewish community has received "anti-Semitic comments, some of them anonymous, on Facebook and Twitter. It happens every time the Middle East heats up, but this time we think it was pointless."