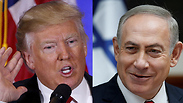 Trump (L) and Netanyahu
Photo: Reuters
Israel, Jews have 'no better friend' than Trump, PM meeting set
Netanyahu is to meet with the US president on February 15; they will discuss security issues that Iran, which is believed to have fired a medium-range ballistic missile; White House Press Secretary lauds the president's relationship with the Jewish state and people.
Prime Minister Benjamin Netanyahu will meet with US President Donald Trump on February 15 in DC for talks covering a range of security issues, the White House said on Monday.

"Our relationship with the only democracy in the Middle East is crucial to the security of both our nations, and the president looks forward to discussing continued strategic, technological, military and intelligence cooperation with the prime minister," White House Press Secretary Sean Spicer told reporters as he announced the visit.

Spicer, "I think that with respect to Israel and the Jewish people specifically, there's been no better friend than Donald Trump when it comes to protecting Israel, building a better friendship with Israel. You look at what Prime Minister Netanyahu's talked about: He welcomes this administration. He appreciates the friendship and respect that he has shown to Israel and the Jewish people."

The White House was criticized after releasing a statement last Friday to mark International Holocaust Remembrance Day that failed to mention Jews. Spicer addressed the inclusivity of the American president.

He continued, "But to suggest otherwise…I got to be honest: The president went out of his way to recognize the Holocaust and the suffering that went through it, the people that were affected by it and the loss of life. And to make sure that America never forgets what so many people went through, whether they were Jews, Gypsies, gays, disability, priests…

"At the end of the day, I don't think that when you look at the State of Israel or the Jewish people themselves—I think there's been no better friend to (sic) Donald Trump, especially after the past eight years. The tremendous respect that he's shown Israel, the Jewish people. And to suggest anything otherwise is frankly a little disappointing."

Iranian missile

Also on Sunday a US official said, Iran carried out a test launch of a medium-range ballistic missile that exploded after 630 miles.

The official, speaking on the condition of anonymity, said the test launch was carried out from a site near Semnan. The official added that the last time this type of missile was test launched was in July 2016.

Spicer said that the White House was aware of the incident when questioned: "We're looking into that. We're aware that Iran fired that missile. We're looking into the exact nature of it, and I'll try to have more for you later."

Netanyahu mentioned the incident himself earlier that day on his Facebook page. He wrote in Hebrew, "Over the weekend, Iran launched another ballistic missile. This is a blatant violation of the Security Council's decision. I will be meeting with President Trump in Washington soon. I will bring up the need for renewing the sanction against Iran, sanctions against ballistic missiles and sanctions against terrorism, in addition to handling this whole failed agreement."

He added, "Iranian aggression cannot be left without a response."

Israel's Permanent Representative to the United Nations, Amb. Danny Danon, issued on the launch. He stressed that Iran once again contravened the UN Security Council's resolution and exposed its true intentions. He added that the international committee can no longer bury its head in the sand and ignore Iranian aggressions. He urged the UN to act immediately against Iranian actions that put both Israel and entire Middle East at risk.

According to UN Security Council Resolution 1929: "Iran is prohibited from undertaking any activity related to ballistic missiles capable of carrying nuclear weapons and States are required to take all necessary measure to prevent the transfer of related technology or technical assistance."