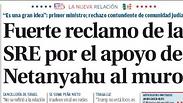 Anti-Israel headline in a Mexican newspaper
Is the media to blame for Netanyahu's irresponsible tweet?
Op-ed: By accusing the press of creating a 'non-crisis' with Mexico, the prime minister has turned his own reckless tweet not just into a crisis with one of Israel's allies, but into another focus of incitement, hatred and delegitimization against a public that has nothing to do with this failure.
He has no shame, Israel's prime minister. No shame and not an ounce of integrity. And this is no longer about post-truth, or even about alternative facts. It's a lie. A bald-faced lie. Benjamin Netanyahu sat in front of the cameras on Monday and threw the entire responsibility for the crisis with Mexico on the Israeli media. First he denied that there was a crisis, and then he blamed the press for the non-crisis.

By doing do, he turned his own reckless tweet not just into a crisis with a country that is Israel's ally, but into another focus of incitement, hatred and delegitimization against a public which has nothing to do with this failure. Is the media to blame even for his own irresponsible tweet?

The tweet, in which Netanyahu compliments US President Donald Trump on his decision to build a fence between the United States and Mexico and even calls it an great decision, likely stemmed from Netanyahu narcissistic tendency to flatter himself and argue that his wisdom in building the fence with Egypt – which did, by the way, reduce the illegal immigration from Africa – is insufficiently appreciated.

This tendency made him tweet what he tweeted, in particularly poor wording, and trap himself between the devil and the deep blue sea. If he denies and apologizes, he may insult the unexpected Trump. If he doesn't – Mexico will be offended.

Instead of doing the necessary thing, apologizing to Mexico and ending the affair as soon as possible, he is dragging Israel into a first-class diplomatic crisis, while smacking the Left and the press.

Mexico, it seems, does not think the Israeli media is responsible for the crisis. There, they are making headlines from the crisis and interpreting Netanyahu's tweet not as he would like it to be interpreted – as a plot of the Bolshevik media – but just like any reasonable person understands the tweet, as words of flattery to the American president, without any consideration and without taking into account the wide meaning of the comment and the damage it could cause.

The crisis with Mexico is a journalistic invention, Netanyahu said Monday. At the exact same time, the Mexican foreign minister was interviewed on what he referred to as an aggressive statement of the Israeli prime minister and demanded an apology. It turns out that this non-crisis is forcing President Reuven Rivlin to hold a reconciliation talk with the Mexican president. I wonder what would happen if there really was a crisis.

But Netanyahu insists: A Bolshevik witch hunt, brainwashing and character assassination. That's how he blatantly characterized the media's conduct.

One cannot help but wonder, with a great amount of concern, where is this all leading us. Have all the dams really been removed and is the prime minister allowed to throw a public of journalists, who are faithfully doing their job, to the dogs?

The witch hunt and character assassination are being performed by the prime minister himself. And it's not over yet. There is no way of knowing what else to expect from a person under investigation who, like a wounded lion, is willing to say and do anything, but anything, in order to survive.

The irresponsibility is as deep as the investigations.