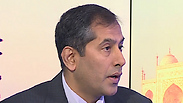 Indian ambassador to Israel
Photo: Ori Davidovich
Prime Minister of India Narendra Modi is scheduled to make an historic visit to Israel in 2017.

India's Ambassador to Israel, Pavan Kapoor, made the announcement Monday night in an exclusive interview with Ynet marking the 25th anniversary of diplomatic relations between Israel and India.

Indian Ambassador to Israel Pavan Kapoor (צילום: אורי דוידוביץ)

Prime Minister Modi's visit will mark the first time in history an Indian prime minister will visit Israel. Modi's visit is a sign of an upgrade in relations on all levels.

In the last two years, there have been two high-profile visits between officials. In 2015, President of India, Pranab Mukherjee, visited Israel and in 2016, President Rivlin visited India in return.

In January, Prime Minister Modi also met with Minister of Agriculture, Uri Ariel, who was in India to finalize an upgrade in agricultural relations between the two nations.

Ambassador Kapoor also addressed a plan he had for direct flights from Delhi to Tel Aviv. Currently, only El Al operates direct flights from Tel Aviv to Mumbai. The Indian embassy is currently in talks with Air India to operate a direct line between the two nations.

Currently, between 35,000-40,000 Israelis visit India annually and vice versa. The two nations are interested in significantly upgrading the number of tourists per annum.

Another issue which concerns Ambassador Kapoor is that of Indian food in Israel, which according to Kapoor is not satisfactory enough. However, the demand for Indian food is Israel is quite high. The problem is that Israel does not give visas to Indian cooks and sous-chefs, but only to expert Indian chefs, whose wages can only be paid by large hotels.

"If Indian cooks and sous-chefs are allowed to come, it will allow for a boom in Indian restaurants, which will benefit everyone. There is a big demand for this," said Kapoor.

The government has discussed developing relations with India and China in recent weeks in honor of the 25th anniversary of diplomatic relations with the two regional giants.

Mark Sofer, Deputy Director of Asia and the Pacific at the Foreign Ministry, and Hagai Shagrir, Deputy Head of the Asia Division, presented ministers the central issues on the agendas of both countries.

Shagrir said that the platforms between the governments of China and Israel are very good and there is a significant push from the Chinese to do business with Israel. Shagrir further noted that trade between the two countries stands at $11 billion, of which only $3 billion is export.

Prime Minister Benjamin Netanyahu noted that exports are extremely low and said, "We must break this trend. This is a massive market and a strategic step for the Israeli economy."

A free-trade agreement between the two countries is currently being negotiated and is expected to significantly increase trade.

Mark Sofer emphasized that "there is a window of opportunity with India and China. We must take advantage of it and it is critical for us. These are two important countries and their desire to trade with Israel is unique."