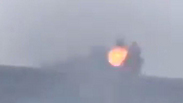 Missile impacts with the Saudi vessel
The Arab Coalition led by Saudi Arabia admitted Monday that a Saudi frigate in the Red Sea near the port of Al Hudaydah in western Yemen was attacked and damaged by Houthi rebels who recorded the incident and shouted, "Death to America! Death to Israel!"

According to the coalition, three suicide vessels attacked the frigate, while a video published by the rebels seems to show the Saudi vessel being struck by an anti-ship missile.

Incident captured on camera

Sources affiliated with the Shiite rebels told Hezbollah-affiliated "Al Mayadeen" that no less than 176 Saudi troops were on the frigate, including a military helicopter. In a coalition statement, the Saudis claimed two were killed and three wounded.

"The Saudi ship acted in response to the vessels, however, one of them crashed into the back of the ship causing an explosion and a fire, which was later extinguished," said the coalition. According to the Saudis, the ship was on patrol in the Red Sea near the port of Al Hudaydah.

This is not the first time Arab Coalition vessels are bombarded or attacked by rebels in Yemen, but it is undoubtedly another example of the fact that maritime activity in the area is in danger as the attack seems to indicate an escalation in hostilities. At the end of October, 60 people were killed when Saudis bombarded a prison and other rebel buildings.

In March 2015, the Saudi-led Arab Coalition launched an operation called Decisive Storm against the Houthis, and launched thousands of attacks in an attempt to defeat them. Now, at the beginning of 2017, the end of the operation or a political solution are nowhere in sight.

The Yemeni president Abdrabbuh Hadi Mansur and his government, which is supported by Saudi Arabia and the Coalition, is in the southern city of Aden. The Houthis are still in control of the capital Sana'a, with their own government in place. So far, around 7,000 people were killed in the battles.

In October, the US destroyed three rebel-controlled radar systems. That was the first direct American attack against the rebels, and according to the Pentagon, it came as a reaction to the two missile attacks executed against American warships in the area.

Up to that point, the US attempted to avoid direct intervention in the conflict and settled for logistic and technical assistance to the Saudi-led Arab Coalition.