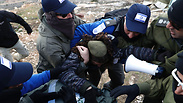 Two families remained to be evacuated from the illegal Amona outpost late Wednesday night, with the temperature hovering one or two degrees above zero. In addition, several dozen residents had blockaded themselves inside the synagogue, and some 200 youths remained walking through the settlement at 10pm, according to police.
Police plan to first evacuate the remaining families of the 40 that have been evacuated that day, followed by the evacuation of those barricaded in the synagogue. Security forces intend to make all efforts to evacuate the synagogue in an orderly manner to avoid the image of police desecrating a holy site. The police reported that they were attempting to speak with those sequestered inside to reach an agreement on their exiting the synagogue to avoid any physical confrontation.
Thursday morning, Ministry of Defense officials will commence the next stage of the evacuation—packing the belongings that the residents have left behind and removing the structures with engineering equipment.
Violent clashes had broken earlier in the afternoon as hundreds of activists staged fierce resistance against thousands of policemen deployed to the outpost to implement an evacuation ordered by the High Court of Justice (HCJ).

The HCJ accepted the petition that day submitted by human rights group Yesh Din on Wednesday. According to the ruling, the Amona agreement reached between the settlers and the government is unlawful, since it states that the evacuated settlers will be moved to land belonging to Palestinians. The ruling was 2–1.
Clashes in Amona (צילום : אלי מנדלבאום)
In mid-December, Amona residents had approved a new compromise deal offered by the government. According to the new relocation deal, a total of 24 families out of 40 will be able to move to an adjacent plot regulated as "absentee property" on the hill, not covered by the court's ruling instead of the 12 proposed in the previous proposal.
However, since January 23, the deal has been on hold due to the court issuing an order in response to a petition filed by residents of the Palestinian village of Silwad. The plaintiffs, represented by Yesh Din, a legal rights NGO, petitioned the court to issue an injunction against the planned relocation of Amona, claiming some of the plots in question are owned by residents of Silwad.
Thirteen protestors were arrested for various offenses, and at least 24 police officers were lightly wounded as they went from building to building to remove the activists and residents, and physically drag out the most obstinate among them. Eleven of the policemen, one in moderate condition, were evacuated to the hospital by 4pm while dozens of activists were distanced from the area for public disorder offences.
Hadassah Medical Center reported Wednesday evening that is had been treating 18 people injured in the evacuation. Among them are residents of the settlement, Border Patrol Police and IDF soldiers. Those brought to the hospital were suffering from wounded extremities, skin and eye contact with aversive substances and hypothermia. Most had been lightly injured.
Despite a number of families who opted to evacuate peacefully, enraged activists used any tools, objects and substances at their disposal to sling at the officers in their effort to frustrate the eviction, including glass bottles, furniture, paint cans, oil, potatoes and even bleach.
"A Jew doesn't evict a Jew!" the youngsters chanted.
Police issued a statement shortly after the violence erupted describing the events that had unfolded.
"Police were attacked by anarchists with substances that were thrown on them and caused burning the eyes of a number of policemen who also required medical treatment at the scene. The Israel Police will not allow this and will act accordingly," the statement read.
The statement went on to say: "The Israeli police are acting with restraint in order to allow those families of settlers who wish to evacuate to do so. However, those who abuse this restraint and act violently toward police we be dealt with accordingly."
One of the policemen was said to have refused to take part in enforcing the evacuation, and was consequently praised by the residents as a hero, who called on others to follow suit.
However, the Police Spokesperson's Unit insisted that the officer did not disobey orders.
"A border policeman had difficult time, felt uncomfortable and unwell. The emotional strain is overwhelming here. He felt a little uncomfortable and moved aside," the explanation read.
Around 330 Israeli settlers live in Amona, the largest of scores of outposts built in the West Bank without official authorization. The Supreme Court ruled in November, after a lengthy legal battle, that settlers had to leave Amona because their homes were built on privately owned Palestinian land.
Crowds of police officers began entering Amona earlier in the morning while hundreds more fanned out on its perimeters as the evacuation got underway.
The officers, who immediately faced hostile activity upon entering the outpost as a few activists began hurling stones at them despite previous commitments to non-violence, did so unarmed and unprotected, equipped with neither guns nor batons. Moreover, the officers were clad not in their usual uniform but simply blue T-shirts.
On Tuesday morning, security forces began blocking roads leading to the outpost with bulldozers, which hundreds of activists managed to penetrate as they prepared for a showdown with the police.
In response to the police presence, teenage activists began blocking the main access road to Amona and burning tires as they began what may be a last-ditch resistance against their extrication from their homes, which the HCJ ruled were built on privately-owned Palestinian land.
Police roadblocks and checkpoints were erected along all of Route 60 at all intersections between Jerusalem and Ofra while all thru-traffic was blocked, except for area residents and those with official authorization.
Activists protesting the evacuation advised one another "to find a spot to be during the evacuation. Whether it is in a home or in a synagogue, no one can be outside. Whoever is outside will be caught and put on a bus. That is game over."
Written on a WhatsApp group, activists urged each other to remain as obstinate as possible, and compel security personnel to remove them by forces while refraining from violence.
"During the evacuation nobody get up and go, even if the police tell you to. We are not evacuating by choice. Make the police remove you with as much force as possible, without violence," the messages said.
"The best thing would be for four police officers to have to take one of us out. Police won't act violently if you don't act violently. The prime minister has an interest in seeing the evacuation go ahead with as little gore as possible. We will all try to make the evacuation take as much time as possible. We will not get up and leave, we will tie ourselves to each other and to furniture and do what we can to stop a Jewish community from being destroyed."
In an interview with Ynet, Amona resident Tamar Benizri said, "The houses are full of people, dozens of people and young people are in the streets. These roadblocks have done us a favor and seem to have encouraged more people to come. The challenge is something that motivates action. People came, climbed up the hills in the rain and mud; arrived exhausted, but happy, and more and more will keep coming. It is amazing."
Hundreds of teenagers managed to infiltrate the Amona outpost Tuesday night in a last-ditch effort to hinder the evacuation. Additionally, Amona rabbi Yair Frank wrote, "We will not raise a hand against a police officer or a soldier, but we will not leave our homes willingly on our feet. They'll need to carry us."
Dozens of youth activists, some residents and some not, assembled in buildings and sang religious songs as tears fell from their eyes in what are likely their final moments on the hilltop.
Others wrote messages on the walls of the buildings and began conducting prayer services.
"We won't leave our homes on our own. Pull us out, and we'll go," one settler told reporters. "It is a black day for Zionism."
On a nearby hilltop, Issa Zayed, a Palestinian who said he was one of the owners of the land on which Amona was built, watched the scene through binoculars. "With God's help, it will be evacuated and our land will return to us," he said.
Earlier on Tuesday, the IDF posted notice at the entrance to Amona, stating that within 48 hours, all persons must exit the area and leave no property behind.
Security forces also requested to propel an observation balloon to the sky above Amona from Tuesday night until February 2.
Meanwhile, the Regulation Bill, which seeks to retroactively legalize outposts, passed its second and third reading in a special Knesset committee ahead of a Knesset plenum vote scheduled to take place next Monday.
The outpost, built in the 1990s, stretches out over a rugged, grassy hilltop and looks out across the valley onto Palestinian villages. In 2006, Israeli police demolished nine homes at Amona, setting off clashes pitting settlers and their supporters against police and soldiers. Several dozen trailers have remained and the outpost has become a symbol for the settlement movement.
Violent clashes with police in Amona (צילום : אלי מנדלבאום)
Its fate has threatened to rupture Netanyahu's narrow coalition, which is dominated by ultranationalists who support settlements.
In 2006 Amona saw a violent partial eviction, with nine shacks torn down by authorities. Police were confronted by thousands of settlers and more than 200 people were injured.
The Amona issue had caused tension within Prime Minister Benjamin Netanyahu's coalition government. But it eased after he got behind a law proposed by the Bayit Yehudi party, a far-right political ally, to retroactively legalize dozens of outposts. This would not apply to Amona because of the existing court decision.
"We have lost the battle over Amona but we are winning the campaign for the Land of Israel," Education Minister and Bayit Yehudi leader Naftali Bennett tweeted after the evacuation began.
The legislation is expected to be passed in parliament next week. It is opposed, however, by Israel's attorney general and legal experts predict it eventually would be overturned in court.
Reuters, Elisha Ben Kimon, Roi Yanovsky, Kobi Nachshoni, Telem Yahav, Liran Levy and Ilana Messika/TPS contributed to this report.