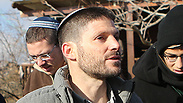 MK Bezalel Smotrich
Photo: Alex Kolomoisky
Bayit Yehudi MK Betzalel Smotrich on Wednesday morning compared the evacuation of the illegal outpost of Amona to rape.

"The evacuation won't be violent because these are non-violent people, but it'll be painful just like when a horrible thing happens it's painful," he told Ynet.

"When you rape a woman, it's painful. What they're doing here is brutal rape," Smotrich added. "They're going to take people out of their homes for no fault of their own."

Smotrich arrived at the outpost early Wednesday to protest the impending evacuation, which is being carried out by the right-wing coalition government he is a member of.

The Amona settlers received a 48-hour notice on Tuesday after a compromise deal signed with them fell through. The deal would've seen a peaceful evacuation in return for the government providing them with alternative housing on nearby plots.

"Nothing good will come of this," Smotrich continued. "This is the tyranny of the judicial authority, which is raping us, raping the government, raping elected officials, raping those who received a mandate from the people. We want to build the settlements, develop it."

When asked about his comparison between the evacuation of Amona and rape, the firebrand MK insisted that "both are a terrible, awful things. Both are painful, both are sad. We need to shout out and protest against both, we need to prevent both."

"All I did was to provide an example of how this cannot stand. There's no such thing. How can you tell someone to sit quietly after something so horrible and awful was done to him?" he continued.

Despite the fact his party is a senior partner in the government that is carrying out the evacuation, Smotrich claimed that "quitting the government right now will be of no use. We're going to bring up the Regulation Bill (to a vote). We're regulating the settlements."

"I came here hurting, sad, very frustrated," Smotrich lamented. "Primarily from the situation in which a town in Israel is being demolished on our watch. I'm sad and frustrated we couldn't prevent this, but I can say with certainty that we did everything we could. Unfortunately I'm not very optimistic about the decision the High Court of Justice is going to make. I wish they come to their senses at the last moment. We're here to share with the residents' pain and ensure this is the last time."

Smotrich also clashed with Likud MK Oren Hazan, who told his coalition partner: "Tell (Bayit Yehudi leader) Bennett to go home. The person who looks people in the eye and tells them 'you won't be removed from this mountain,' comes and takes pictures, smiling and selling them slogans, and a minute later sits at home (while they're being evacuated)—is not worthy of being in the Knesset."

A visibly distraught Hazan further accused Bayit Yehudi of "only outflanking the government on the right. It's all politics. My heart is being torn apart," adding cynically: "Are you the only ones in pain? Are you the only owners of the Land of Israel?"

"Bennett should learn how to act and what leadership is about," Hazan continued.

Security forces were surrounding the outpost on Wednesday morning to stop more right-wing activists from arriving to Amona and protesting the evacuation.

Meanwhile, at the entrance to the outpost, troops were trying to lower the flames as tensions nevertheless mounted high.

IDF officials said they were giving the residents of Amona an opportunity to willingly evacuate.