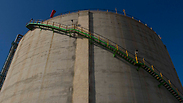 Ammonia storage facility in Haifa
Photo: Ido Erez
Haifa Mayor Yona Yahav has demanded the government act to swiftly remove the ammonia storage facilities in Haifa Bay, following the release of a report pointing to the great danger the location of these facilities poses to the city and its surrounding area.
The danger is not only from the storage facilities, which are not underground and therefore highly vulnerable to a missile attack, but also from the ships that bring the ammonia to the port, according to the report, written by Prof. Ehud Keinan of the Technion, the former Dean of the university's Chemical Engineering faculty.
The report is based on a professional opinion by Prof. Keinan who warned that "the ammonia ship that enters the Haifa Bay every four weeks is akin to a ship carrying five primed atom bombs, each more deadly than the one dropped on Hiroshima."
The report determines that any leakage, resulting from either a terror attack, an earthquake (the Carmel Mountain is an active seismic area), or even an accident could create a deadly cloud of highly poisonous gas that could kill over half a million people, depending on the prevailing wind conditions.
"Ammonia is a highly toxic gas. Exposure of 0.5 percent concentrate in the air causes death in 5-10 minutes," the report notes.
The report points to four or five points of weakness in the ammonia container, saying ther is high probability it could "crack tomorrow morning."
Israel's ammonia needs are minimal. The vast majority of the ammonia stored in Haifa is used to manufacture fertilizers and other chemical products, primarily for export.
"The American owners of Haifa Chemicals have turned us into their backyard, as if we were some third world banana republic," Yahav said.
The Haifa mayor said he sent the report to the Prime Minister's Office and the Supreme Court.
Haifa Chemicals accused the mayor of deliberately misleading the public and making cynical use of a report that has already been rejected by security officials.
Article reproduced with the permission of TPS
Ahiya Raved contributed to this story.