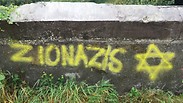 Anti-Semitic graffiti
Photo: The Community Security Trust
There were on average more than three anti-Semitic incidents per day in Britain last year, according to a new report released Thursday by the Community Security Trust charity.

The report noted there were 1,309 incidents last year, a 36 percent increase over the year before. It is the highest total since the group started keeping records in 1984.

Most of the incidents involved verbal abuse, hate mail and graffiti. There were also 81 cases of vandalism and damage to Jewish property.

In addition, 107 of the incidents recorded were violent assaults, a 29 percent increase to the previous year. However, none of the violent assaults posed a threat to life or involved potential grievous bodily harm.

Over three-quarters of the incidents were recorded in Greater London and Greater Manchester, the two largest Jewish communities in the UK. CST recorded 813 incidents in Greater London, a rise of 65 percent from 2015. In Greater Manchester, CST recorded 205 incidents, a fall of 9 percent from 2015.

The charity said there is no single explanation for the rise in incidents.

"Previously, record high incident totals have been caused by antisemitic reactions to sudden, specific 'trigger events' leading to temporary 'spikes' in incidents. In contrast, there was no single, sudden trigger event in 2016, and the high number of incidents was spread uniformly through most of the year," the charity said.

"Every month from May to December saw a monthly incident total above 100 incidents, an unprecedented run of consistently high totals over an eight month period. For comparison, in the decade prior to 2016 monthly totals above 100 incidents had only happened six times."

The report hypothesized that "anti-Semitic incident totals may have been sustained at this high level by the cumulative effect of a series of events and factors that, taken together, have created an atmosphere in which more anti-Semitic incidents are occurring, and are also more likely to be reported to CST and the Police."

Among these events in 2016, the report lists high profile allegations of anti-Semitism in the Labour Party; a perceived increase in racism and xenophobia following the EU referendum, including an increase in recorded racial and religious hate crime; and regular, high-profile discussion of anti-Semitism, racism and hate crime in mainstream media, politics and on social media during the year.

Social media was noted as an "essential tool for coordinated campaigns of anti-Semitic harassment, abuse and threats directed at Jewish politicians, student activists and other individuals."

CST recorded 287 anti-Semitic incidents that involved social media in 2016, comprising 22 percent of the overall total of 1,309 incidents. This was an increase on the 185 incidents involving social media recorded in 2015 (19 percent).