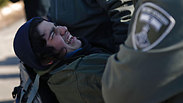 Police remove Amona residents
Photo: AFP
Amona evacuees have cast doubt on promises made by senior ministers in the government, including Prime Minister Benjamin Netanyahu himself, assuring them that a new settlement will be established within one-and-a half months.

The former Amona residents—all of whom were removed between Wednesday and Thursday in line with an order by the High Court of Justice (HCJ)—have become increasingly circumspect about placing faith in commitments made by officials.

The caution was intensified following the collapse of a compromise reached and accepted by both sides, which proved untenable in the courts, precipitating Amona's eventual evacuation.

"We don't believe you: not Prime Minister Benjamin Netanyahu and not Education Minister Naftali Bennett. Until a mezuzah is nailed in the new community, we don't believe anything," said Avichai Buaron who led the struggle for Amona.

"You promised a solution, There is no solution. You promised 52 buildings … There is nothing. From now on (we believe) only actions," he exclaimed.

Buaron's comments came in reference to a statement delivered by Bennett on Wednesday morning to the Knesset plenum in which he expressed his regret over the evacuation, hailed its residents as heroes and promised a series of measures to strengthen Israeli presence in the West Bank.

"Hope will grow out of this difficult day and we will build a new community after the demolition of Amona's homes. Out of the wreckage of Amona we will build children's playgrounds throughout Judea and Samaria. As a result of the legal defat, we will impose new rules in Judea and Samaria and legalize all the communities," the Bayit Yehudi leader promised.

In addition, Prime Minister Benjamin Netanyahu allegedly already told the Amona residents that the government was willing to establish a new settlement on any plot of land of the residents' choosing, on the proviso that it is on state land.

Nevertheless, in light of the situation, such calls for optimism fell on deaf ears amid a palpable sense of anger and betrayal among the evacuees, which was inflamed on Wednesday night when the HCJ accepted a petition by human rights group Yesh Din, essentially canceling the Amona compromise agreement.

The court determined that the agreement reached between the settlers and the government is null and void, since it stated that the evacuated settlers would be moved to land belonging to Palestinians.