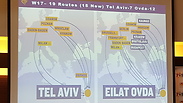 Ryanair expanding Israel operations
Photo: Amit Cotler
Ireland-based low-cost airline Ryanair and the Israel Ministry of Tourism announced that the airline will begin serving a series of new routes in the coming months: seven from Tel Aviv to a variety of European cities and eight from the new Eilat Ovda airport to Bratislava, Budapest, Krakow and Kaunas.

"The significant entry of Ryanair operations into Israel is good news that will make an immediate contribution both in terms of increasing incoming tourism and in reducing the cost of flights in and out of Israel," stated Tourism Minister Yariv Levin.

"I am pleased that the cooperation between the Tourism Ministry and Ryanair has gone up a level with the company expressing great confidence in the Israeli tourism product," he said.

According to the Central Bureau of Statistics, Israel welcomed 2.9 million tourists in 2016, an increase of 3.6% over 2015 following intensive marketing efforts by the Tourism Ministry.

This is the first time the Irish company is increasing its operations in Tel Aviv and Eilat since the beginning of its operations in Israel. The new routes are expected to be operational in March of 2016, though comprehensive details remain to be divulged.

According to Ryanair's website, flights from Tel Aviv to Cyprus will begin on March 28, with fares starting at €19.99, approximately 80 shekels.

Ryanair has often made clear its plans to go beyond European airports and to use Israel to expand its Middle East market. Israel's airports are currently the only ones the low-cost airline company serves in the region, out of 33 partner countries in total.

Ryanair's Chief Commercial Officer David O'Brien stated that to celebrate the launch of the Israel winter 2017 schedule, the company would release seats for sale from Tel Aviv and Eilat Ovda from just €20, which are available for booking until midnight Thursday.