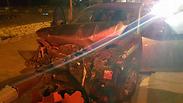 The vehicle after the attack
Three persons, two 52-year-old police officers and a 34-year-old security guard, were lightly wounded in a car ramming attack near the town of Adam, which is in the West Bank, nearby Jerusalem.
Footage of the attack
The three were transported to the hospital. A female terrorist reached the entrance of the town and rammed her car into a police cruiser, hitting the town's gate as well. She received medical treatment and is being interrogated by the security forces. Following a preliminary questioning, it appears the motive to have been "personal."
United Hatzalah EMT Michael Cohen reported, "When I arrived at the scene I saw a private vehicle had rammed into a police cruiser and the town's gate. I treated three people at the scene who were all thankfully just lightly injured. I joined other medical teams as we continued treatment during transport. All injured persons were transported to Hadassah Mt. Scopus Medical Center."