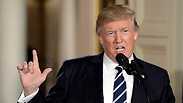 President Trump
Photo: MCT
Trump tweets 'Iran is playing with fire'
Two days after presidential advisor warns it's putting Iran 'on notice' following test-fire of ballistic missile, Trump takes to Twitter, saying Iran doesn't 'appreciate how kind President Obama was to them. Not me!'; Iranian foreign minister says country 'unmoved by threats.'
US President Donald Trump tweeted early on Friday that "Iran is playing with fire" and "they don't appreciate how kind President Obama was to them. Not me!"

Trump plans to impose sanctions on several Iranian entities, seeking to ratchet up pressure on Tehran while crafting a broader strategy to counter what he sees as its destabilizing behavior, people familiar with the matter said on Thursday.

Iran's decision to test-fire a ballistic missile on Sunday helped trigger Trump's decision, which could be announced as early as Friday, they said.

Iran annoucned that it had test-fired the missile on Wednesday, prompting a tough response from a senior adviser to President Trump.

Trump's national security adviser, Michael Flynn, said the United States was putting Iran on notice over its "destabilizing activity" after it fired the missile.

"As of today, we are officially putting Iran on notice," Flynn said, without explaining exactly what that meant.

Iran has test-fired several ballistic missiles since the nuclear deal in 2015, but the latest test was the first since Trump entered the White House. Trump said during his election campaign that he would stop Iran's missile programme.

Iran's Foreign Minister Mohammad Javad Zarif tweeted back on Friday, saying that the Islamic Republic is unmoved by US threats following its missile test launch and Tehran will never initiate war.

"Iran unmoved by threats as we derive security from our people. Will never initiate war, but we can only rely on our own means of defence," Zarif tweeted.