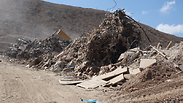 Hiriya
Photo: Motti Kimchi
Bank Leumi employees from one a Tel Aviv branch accidentally threw away a packet with 50,000 Euros in cash on Thursday.

The monumental mistake was discovered only after the garbage truck had left the compound. In a last minute realization, the bank employees reported the mistake to Hiriya waste dump management and on Friday morning, Hiriya workers began sifting through the garbage. After several long, nerve-wrecking minutes, they found the lost treasure, worth over 200,000 shekels.

"We received a report in the morning claiming a large amount of money was in the garbage, and indeed we showed everyone that garbage can turn into money," said Doron Sapir, chairman of the recycling site in a phone conversation with Ynet.

"Not only do we produce energy and products out of waste, this time, we literally took money out of the trash," he continued.

The recycling site's employees managed to locate the truck responsible for the area in which the bank's branch is situated, and took it to a secluded area, where they dumped all of its contents on the ground. "The workers started sifting through the trash, looking for the envelopes," said Sapir.

"It took several minutes, but they finally found some Bank documents and the envelopes. Eventually, they managed to retrieve all of the money, which everyone thought was lost," he continued.

A bank official stated that the packet accidentally fell into the trash, and since it wasn't possible to pull it back out, the Bank had to ask the Tel Aviv Municipality for help.

Bank Leumi stated that "this was a human error, which was discovered by the bank's auditing body and handled in the best way possible, without incurring any damage."