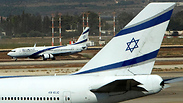 Grounded again
Photo: Reuters
El Al cancels flights amid labor dispute with pilots
Despite recent agreement reached with pilots union, disruptions start all over again, with the cancellation of flights to Moscow, New York and Boston; El Al: 'We expect the pilots not to turn every disagreement into a strike'; pilots: 'management is lying to the passengers. We, the pilots, are not on strike.'
The Israeli airline El Al had to cancel three of its flights to Moscow, New York and Boston on Saturday night after its pilots union resumed its labor dispute. Two other cargo flights and a flight from New York have been been cancelled since Thursday.
The pilots are also disrupting training. The company placed 10 instructors on leave all at once after claiming they were ill.
The airline and its pilots recently reached an agreement after a year-long labor dispute in which they made a commitment not to disrupt any more flights.
However, one outstanding issue remains. In November 2014, Israel adopted the international regulations prohibiting flight over the age of 65, while men in Israel don't retire before the age of 67. El Al has solved the issue by employing their veteran pilots as flight instructors, but negotiations over their pay continue, led by Histadrut Labor Federation head Avi Nisenkoren.
El Al stated that it "has always tried to maintain a level of responsibility and decency toward the pilots who can no longer serve as active pilots. We expect the pilots' representatives not to turn every disagreement that arises during negotiations into a covert or overt strike, which hurts the company, the employees, and above all, our customers, who are begrudgingly turned into 'hostages.'"
The pilots' union stated in response that "the company's management is lying to the passengers. We, the pilots, are not on strike. We uphold all flights to which we are scheduled in advance.
"It is true a pilot who is not scheduled in advance to a specific flight, and is suddenly sent on a 'special' flight in the middle of his daughter's birthday, is not motivated to do it. This while the management harshly discards the most experienced 65-year-old pilots and captains and reduces their pay by two-thirds (66 percent!!). The management is thus destroying El Al, a company that is our home," the union's representative continued.