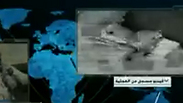 The Jordanian air force conducted air strikes against Islamic State targets in southern Syria on Friday night, hitting an ammunition depot, a car bomb factory and a barracks, the Jordanian military said in a statement.

In an announcement issued Saturday night by The Jordan News Agency Petra, "The operation resulted in killing and wounding a number of members of the terrorist gang in addition to destroying a number of vehicles."

The statement went on to say that the attacks were "in memory of the soldiers who died as part of the war on terror."

In addition, the announcement also stated that the attacks were executed using drones and guided missiles, and that as a result of the attack, a large number of ISIS fighters were killed or injured.

At the end of the statement, they reiterated that "these attacks represent the continued Jordanian efforts to quench the activity of the criminal terrorist group so that it realizes that all bets are off until it is completely terminated."

Jordan airforce attacks ISIS

This attack came a day after the meeting between US President Donald Trump and the Jordanian King Abdullah in Washington.

The king and the president discussed the need to cooperate on several topics, including the war on terror, ensuring the Syrian people's safety, and increasing the efforts to kick start the peace process between Israel and the Palestinians.

On Friday, Jordan commemorated the anniversary of the horrific burning of the Jordanian Air Force pilot, who was captured by ISIS in Syria in December 2014. The organization posted the video of his execution on February 3, 2015, in which he is seen burning alive inside a cage.

At the time, the Jordanian government confirmed via its state television that its pilot had been murdered, and according to the channel—ISIS had murdered the pilot a month prior, which possibly explains the failure of the captives' deal that seemed to be forming.

Al-Kasasbeh's capture roused waves of protest in Jordan. In Al-Kasasbeh's hometown of Al-Karak, dozens of youths protested, shouting slogans against the international coalition fighting ISIS, demanding the king withdraw from it.

"We will not be America's victim," screamed angry youths across town, whose tribes had always been supportive of the Hashmite regime.

Unlike his father, King Abdullah took upon himself and his kingdom a braver role in the joint operation against ISIS by sending fighter jets to Syria—and bringing Jordan to its first intervention in the aerial bombings abroad, in contrast with the solely logistic roles and intelligence collection it had executed in the past.