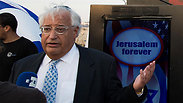 David Friedman's appointment as the US Ambassador to Israel has yet to be confirmed reportedly due to Republican concerns regarding Friedman's rejection of the longstanding "two states for two peoples" solution and his support of Jewish settlements.

This delay comes on the heels of a White House statement that new settlement construction could be an impediment to peace.

"We do not believe that existing settlements present an obstacle to peace, but the construction of new settlements expanding existing settlements may not contribute to achieving this goal," read the statement.

The White House emphasized that President Donald Trump "means to achieve peace in the Middle East during his tenure, but the administration has not taken an official position regarding settlement activity."

Trump and Prime Minister Benjamin Netanyahu are expected to discuss the issue in their first meeting later this month.