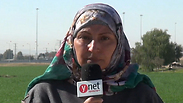 Dr. Abu Saad
Photo: Barel Efraim
Umm al-Hiran driver's widow: 'They said "terrorist" without investigating'
Criticizing officials' immediate leap to paint her deceased husband as a terrorist, Dr. Amal Abu Saad tells Ynet that her husband was clearly intending to visit his mother, not carry out an attack and calls for governmental inquiry.
The widow of Yaqoub Abu al-Qiyan, the Bedouin driver from Umm al-Hiran whose motives when running over an Israel Police officer have been the subject of much debate, called for an official governmental inquiry into the circumstances that led to her husband being shot dead.

Speaking to Ynet, Dr. Amal Abu Saad commented that her husband could not have carried out a terrorist attack. The incident is still under investigation by the Israel Police.

Abu Saad commented, "They're human, and they can make mistakes, but in the interim, they can't say without investigating whether he was a terrorist or not. It's important to us that the truth come out."

"Yaqoub didn't do anything; we've all seen in the video that he entered his car and intended to go to his mother's in Hura. In fact, he got together all his clothes and computer and the binder with the names of the students he teaches at school," the widow said. "We're fighting to clear his name and are also under threat and homeless. The situation is very difficult and very sad."

Abu Saad said that her family was still in Umm al-Hiran without a home after theirs was destroyed. "It's very difficult. There's barely any life there," she said. As for the relations with the police, she said, "In the meantime, they're saying that everything is under investigation, and we're strengthening ourselves with patience. We'll remain patient until we receive the answer from their investigation."