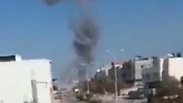 IDF: strikes on Gaza a response to last month's events
IDF issues statement declaring that pounding of Hamas targets is a retaliation for last month's events and Monday's attacks from Gaza in which a rocket was fired at the Hof Ashkelon region of Israel, and Hamas forces opened fire on an IDF force working near the border fence; Netanyahu: 'There's no way that someone can shoot at us and we don't respond.'
IDF tanks and aircraft destroyed a total of six Hamas positions throughout the day Monday, after a rocket was fired toward the Hof Ashkelon area in the morning and Hamas forces opened fire on an IDF force working near the Gaza border fence in the southern Gaza Strip in the evening.
Footage of the aftermath
According to the IDF Spokesperson's Unit, no damage or injuries were caused by the rocket. Forces were dispatched to the site of its landing to search for remnants.
Later in the day, in response to further Hamas small arms attacks on IDF forces operating near the border fence in the southern Gaza Strip, IDF tanks destroyed a Hamas observation post, bringing the total number of Hamas positions destroyed by the IDF on Monday to six.
Shortly afterwards, Palestinian sources reported that tanks fired two shells at a Hamas lookout post adjacent to Beit Lahiya on the Israel–Gaza border, which destroyed the post. The IDF confirmed the attack.
Prime Minister Benjamin, who on Monday visited British Prime Minister Theresa May in London, commented on the heated border events.
"I have instructed in no uncertain terms that we will respond to all shooting with heavy fire. That has been my policy over the last two years, since Protective Edge…Out policy is consistent and determined in our response," the prime minister said.
"There is no way that someone can shoot at us and we don't respond. We cannot constantly absorb (hits) and overlook them."


Several hours later, Israeli Air Force planes attacked three additional targets belonging to Hamas's armed wing east of Jabalia. The IDF confirmed that both the tank and aerial strikes were in response to the earlier rocket. Its Spokesperson's Unit commented, "The IDF considers the Hamas terrorist organization solely responsible for goings-on in the Gaza Strip."
By 8pm Monday, the IDF released another statement saying that the strikes were not only carried out in retaliation for the day's attacks from Gaza, but also for acts of aggression which have taken place over the course of the last month.