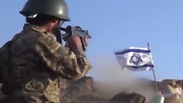 Houthi rebels and the Israeli flag
While Donald Trump's administration imposed sanctions on Iran following a ballistic missile test launch, the Houthi rebels in Yemen—supported by Tehran—continued in their defiance.
Media outlets identified with the Yemeni rebels announced on Friday that their forces launched a long range ballistic missile, intended to reach the Saudi capital of Riyadh.
Sources who spoke with Saba News Agency, identified with the Houthis, claimed that the long range missile was fired toward a Saudi military base in the region of Al-Muzahmiyya, west of Riyadh.
"The test was successful and the missile hit its mark with great accuracy," the news agency said. In a statement issued by the rebels, they claimed that "the capital of the Saudi devil is now in the missile range from Yemen." However, it remains unclear whether the missile actually crossed the Yemeni borders and reached Sadi territory. In any case, this signals another defiant step against the Arab coalition in Yemen, led by Saudi Arabia.
Last week, the Houthis attacked a Saudi frigate vessel near the port of Al Hudaydah. A number of crew members were killed, while others were wounded.
On Monday, the vessel returned to Jeddah port in Saudi Arabia and Saudi military officials have promised to continue operating around Yemen's coastline.
The anomalous incident also garnered a reaction from the new American administration, who linked Iran's ballistic missile test to the vessel attack. Following the attack, the American military deployed its guided missile destroyer, the USS Cole, to the red sea.
In the meantime, the rebels' PR war continues online. Hezbollah's military PR page posted a video of the Houthi forces performing a drill simulating an attack against the 'Zionist entity' and the blue and white flag.
In the video, where the speakers threaten—"We are ready for you on every piece of land"—the Houthi rebel flag is displayed, with the writing: "Death to America, death to Israel, death to the Jews."
This is a new generation of fighters, skilled and trained to fight on the frontlines against the Yemeni president's forces and the Arab coalition supporting them. They call it—"The American-Saudi aggression" against Yemen.
Even in the midst of the frigate attack, the rebels were heard yelling, "Death to Israel."