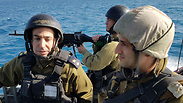 Land ahoy. Lt. Col. Adi Ganon and Lt. Col. Ronen Mirkam
Photo: Yoav Zitun
The rugged geographical structure of Rosh HaNikra doesn't allow bathers in Israel's northernmost coast or visitors of the nearby grottos to see what's going on in the Lebanese side of the sea border. Those who can, and do, are the combatants of the Navy's 914th Division, from their Dvora and Dabur patrol boats, where they operate both openly and covertly to maintain border safety.

Despite the quiet and calm that attract many tourists, the Navy has marked the northern border an operational weak point that Hezbollah's commando unit is training to take advantage of when the time comes, similarly to Hamas's commando unit breaching Zikim beach during the 2014 Operation Protective Edge. But there are also some obvious differences: Hezbollah, unlike Hamas, is relying on Iran and Syria's operational capabilities. That is added to the vast confidence the group gained for their massive part in the Syrian civil war.

The scenario which the navy is preparing for is a covert breach by seabound commandos from Hezbollah to the Israeli coast north of Nahariya in an attempt to carry out a mass terrorist attack in combination with launching anti-tank missiles from the Lebanese coast towards navy forces and heavy mortar strikes.

The IDF has implemented a widespread sensory system in the naval border designed to warn against an attempted breach. Simultaneously, the 914th practices those scenarios on a near weekly basis in collaboration with military forces in charge of holding the coast. This collaboration has lead to an unusual sight: The Golani Brigade's 51st Regiment Commander Lt. Col. Adi Ganon joined his Navy counterpart Lt. Col. Ronen Mirkam for a patrol on the Israeli border.

IDF Navy drill (Credit: IDF Spokesperson's Unit) (צילום: חטיבת דובר צה"ל)

"As platoon commander and company commander I wasn't familiar with the Navy", said Ganon. "Today, collaboration and coordination is on the personal level."

Ganon and Mirkam looked together towards southern Lebanon. "Officially, soldiers of the Lebanese Armed Forces are stationed in the outposts ahead of us, but Hezbollah also has combatants in this area. That is why we are armed and ready," said Mirkam and instructed his soldiers to put on helmets and to assume operational readiness.

Lebanese ships can be seen cruising a few hundred meters from us. "That kind of ship or jet ski could reach Israeli shores in no time. That is why we're here 24/7, assisted by observation posts ashore and other means to combat this threat, that as far as we're concerned could come at any moment, with no warning or notice from military intelligence," said Mirkam.

The sector border between Mirakam's soldiers and the combatants of their infantry corps counterparts is tested with every joint military exercise, to prevent friendly fire or any loss of control during a real event. "In the case of a real combat scenario we will support each other, and if needed our forces will continue inland, while keeping continuous communications between us," explained Mirkam.

Ganon then added: "One of the biggest advantages we have is that we're both on the 'Meso'a' digital command system. When I'm on my way to a scene I know exactly where the navy ships are and they know where my forces are spread out on the shore or near it."

Periodic joint briefings take place at the Rosh HaNikra Base between IDF and the Lebanese Armed Forces, mediated by UNIFIL forces. "Rosh HaNikra is an important strategic point and friction here could lead to some problematic situations," summarized Mirkam. "Both sides are very cautious and deeply invested in keeping the peace."