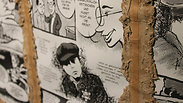 One of the works in the exhibition
"Holocaust In Comics," a new exhibition at the Anne Frank Educational Center in Frankfurt, Germany, explores the charged topic through a different and surprising medium: graphic novels.

"We are constantly in search of new and updated formats to provide both teenagers and adults with a new angle on history," Dr. Meron Mendel, the center's director told Yedioth Ahronoth.

The exhibition features ten comics from different time periods, including a piece from The Property, a graphic novel by Israeli illustrator Rutu Modan about an elderly Israeli woman taking her granddaughter to Warsaw in the hope of reclaiming family property lost during World War II.

The first to introduce the issue of the Holocaust in a graphic novel was Art Spiegelman in the 1980s with his groundbreaking book Maus, which is also on display in the exhibition.

In Maus, Spiegelman talks to his father, a Holocaust survivor, about his memories from the war. The work employs postmodern techniques, representing Jews as mice and other Germans and Poles as cats and pigs.

"Maus may have been a form of provocation, but the discussion surrounding it today is not the same as it was in the 1980s," Mendel said. "The question of whether comics is a legitimate medium to depict the Holocaust is no longer a problematic one. If the creator is able to convey the nuances and complexities of the topic, any medium can be used. So long as it is being used in a way that is respectful to the subject matter."

The center's team feels an ever-evolving change in the way German society has been treating the Holocaust over the past decade.

"We can see it with our visitors, who feel more comfortable to ask questions. The topic of the Holocaust is still relevant to German society, but because of all the time that's passed, it's becomes less charged and more open," Mendel said.

The exhibition is accompanied by an educational program incorporating workshops and discussions on the culture of alternative commemoration.

One of the discussions deals with comics as a medium that could enrich the visuality of the Holocaust. Since the image of the Holocaust usually comes from the photographs taken by Nazis, comics have the potential to create a visual aspect to the victims' memories, and thus to empower them.

"It's not just the attitude towards the Holocaust that has changed over the years since Maus; comics as a medium is taken more seriously," said exhibition curator Jakob Hoffmann. "It was important to us to select works that present a clear and interesting perspective."