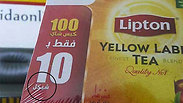 A storm in a tea cup
No teabag for you: a supermarket in the Lebanese city of Sidon was discovered to have been selling a box of Lipton tea with the price written in shekels, instead of the local pound; several consumers were outraged; Economy Ministry sends inspectors to track down additional 'Zionist' tea bags.
The Lebanese sure do love their tea and coffee, both domestic and foreign made. But if there is one thing they do not like, it is buying products from their neighbor Israel.

Lebanese media reported that a supermarket in the city of Sidon was selling a box of tea made by the world-famous brand Lipton. Based on photos uploaded to social media, the box had the price of NIS 10 printed on its side in Arabic.

News site Sidon Online published the pictures as well, and asked the supermarket owner about the matter. The owner claimed that he did not notice the label, and that the box was removed as soon as it was brought to his attention.

An attempt to figure out how the item arrived on a Lebanese shelf in the first place found that it was originally shipped from Egypt, and that the price in shekels was intended for the Arab Israeli market. The site called on "department stores in Sidon and the area to beware of products of this kind, so as not to become the victims of the mafias of the enemy's normalization." The site also called on Lebanese security and law forces to find out how such products manage to enter Lebanon.

After it was notified by concerned citizens, the Lebanon Economy Ministry tried to calm people down by saying, "As of this morning, we sent inspectors to all the stores raided to check the tea bags."