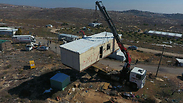 Structure removal in Amona
Photo: Amona Headquarters
Amona evacuation: debris removal begins
As Defense Ministry begins to demolish, remove all buildings from Amona, Judea and Samaria Council Head Avi Roeh likens impending Ofra houses demolition to death, says, 'We need to understand why this is happening. Have we truly loved each and every person? Have we truly accepted everyone into the settlement project? Because that is the essence here.'
Four days after residents were removed from the illegal West Bank settlement of Amona, the security sent trucks on Monday to clear out the settlement's buildings. Structures that can be transferred whole are to be moved to a caravan site near the West Bank settlement of Shilo, and those that cannot are to be demolished.

Amona's synagogue, whose evacuation included a violent altercation between settlers and protestors and the police, some of whom were injured as a result, will be demolished after all sacred Jewish paraphernalia will be removed.

Meanwhile, the evacuated settlers remain in the nearby outpost of Ofra for housing alternatives to be offered to them.

Amona Headquarters—a group supporting the settlers' fight—are also working on a plan to found a new settlement, as was promised to them by Prime Minister Benjamin Netanyahu. At present, they are considering land in the Binyamin region within the West Bank, some near the settlement of Rimonim and some near Shilo.

Former Amona residents staying in the Ofra Youth Hostel attested to very cramped living quarters: families of as much as five children staying in one room, and those with more than five children received two rooms.

On Sunday, some 5,000 people carried out a protest on Ofra against the planned demolition of nine housing units in the outpost. Judea and Samaria Council Head Avi Roeh, likened the impending demolition to death. "Jews are being thrown from their homes. These are tales of the Diaspora, of destruction, arson and exile. And now here in Israel the authorities are doing it to the People of Israel. Why?"

Roeh continued to say that "This is happening under our watch. We need to learn a lesson. The Holy One is sending us a message, we need to understand why this is happening. Have we truly loved each and every person? Have we truly accepted everyone into the settlement project? Because that is the essence here. Cyber and economy are important, but the spirit is what really matters. The spirit that we suckle comes from the Torah, and that is whither we are headed."