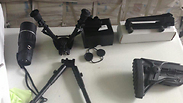 Mail delivered weapon parts
Credit: Israel Police
Police recently confiscated around 500 weapons accessories, including scopes, that were imported into Israel via mail packages in a special operation after a preliminary examination raised suspicions that they were intended for terrorist activities in the West Bank.

Additionally, hundreds of devices described by police as "dual-use"— such as telescopes, goggles, drones, laser pointers, metal detectors and more—that could be used for both civilian and terrorist purposes, were confiscated by the police.

A police official said that some of the parts were ordered from eBay, and could be used to assemble makeshift weapons similar to the M16.

The parts were found in around 200 packages with recipient addresses in the West Bank, the content of which were transferred to the Shin Bet for further investigation.




Police stated that mail packages that arrive in Israel are checked, and some pass through scanners according to their threat level which is defined by their destination. Packages which raise concern are transferred for police examination.

In this case, while some 200 packages were deemed not to pose a bomb threat they were stored in one of the Jerusalem mail branches and were later checked by the police.




In addition, border security forces and the Shin Bet seized hundreds of packages containing contraband en route to Gaza in the last few weeks including drones, micro engines, concealed cameras, micro cameras, laser pointers, laser sights and other weapon parts.

The majority of the packages were ordered from the internet, and included seemingly innocuous products and devices for allegedly innocent clients. However, it is believed that they were intended for terror activities in the Gaza Strip.