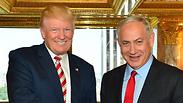 Trump and Netanyahu
Photo: Kobi Gideon, GPO
Netanyahu, Trump align on Iran ahead of Israeli leader's visit
With Trump and Netanyahu to meet on Feb. 15, Iran is at the top of the agenda with both leaders seeing the nuclear accord as a bad deal. No sign Trump, Netanyahu want to scrap accord for now; both reportedly seek renegotiation to include tougher UN monitoring.
Seizing on an Iranian missile test, Prime Minister Benjamin Netanyahu and new US President Donald Trump are nearing common ground on a tougher US policy towards Tehran ahead of their first face-to-face talks at the White House.

But people familiar with the Trump administration's thinking say that its evolving strategy is likely to be aimed not at "dismantling" Iran's July 2015 nuclear deal with six world powers, but rather tightening its enforcement and pressuring the Islamic Republic into renegotiating key provisions.

Options, they say, would include wider scrutiny of Iran's compliance by the UN nuclear watchdog (IAEA), including access to Iranian military sites, and removing "sunset" terms that allow some curbs on Iranian nuclear activity to start expiring in 10 years and lift other limits after 15 years.

In a shift of position for Netanyahu, all signs in Israel point to him being on board with the emerging US plan. Two years ago, he infuriated the Obama White House by addressing the US Congress to rally hawkish opposition to a budding Iran pact he condemned as a "historic mistake" that should be torn up.

As Trump and Netanyahu prepare for their Feb. 15 meeting, focus has shifted to Iran's ballistic missile test last week.

The White House said the missile launch was not a direct breach of the nuclear deal but "violates the spirit of that." Trump responded by slapping fresh sanctions on individuals and entities, some of them linked to Iran's elite Revolutionary Guards (IRGC).

A UN Security Council resolution underpinning the nuclear pact urges Iran to refrain from testing missiles designed to be able to carry nuclear warheads, but imposes no obligation.

However, Trump tweeted, "Iran is playing with fire" and "they don't appreciate how 'kind' President Obama was to them. Not me!" Trump's national security adviser, Michael Flynn, said Washington was putting Tehran on notice over its "destabilizing activity". Netanyahu "appreciated" the comments.

Tehran bristled, warning that "roaring missiles" would fall on its enemies if its security is threatened. It also said its military would never initiate a war.
Meeting of minds over missile test
Beyond the rhetoric, the missile test gave the new Republican president and the conservative Israeli leader an early opportunity to show they are on the same page in seeking to restrain Iranian military ambitions.
Netanyahu wrote on Facebook last week: "At my upcoming meeting with President Trump in Washington, I intend to raise the renewal of sanctions against Iran in this context and in other contexts. Iranian aggression must not go unanswered."
In London for talks with British Prime Minister Theresa May on Monday, Netanyahu said "responsible" nations should follow Trump's imposition of new sanctions as Iran remained a deadly menace to Israel and "threatens the world".
Netanyahu also said Washington should lead the way, with Israel and Britain, in "setting clear boundaries" for Tehran.
But he stopped short of any call to cancel the nuclear accord. Israeli officials privately acknowledged that he would not advocate ripping up a deal that has been emphatically reaffirmed by the other big power signatories—Britain, France, Germany, Russia and China—since Trump's election victory.
According to reports, an Israeli intelligence assessment recently presented to Netanyahu said revoking the pact would be an error, causing a chasm between Washington and other signatories like Russia and China.
Amos Yadlin, former head of Israeli military intelligence, said there were many areas outside the deal where pressure could be applied on Iran to change what he called its negative behavior of "subversiveness, supporting terrorism".
But beyond new sanctions and sharpened rhetoric, analysts say, it is unclear how far Trump could go. Arguments for restraint would include the risk of military escalation in the Gulf, out of which 40 percent of the world's seaborne crude oil is shipped, and strong European support for the nuclear deal.
Though the new US strategy is in the early stages of development, the Trump administration, the sources say, is considering a range of measures, including seeking "zero tolerance" for any Iranian violations.