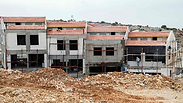 Settlement building
Photo: AFP
The European Union announced on Tuesday that a state summit between EU and Israeli representatives was being postponed following the increase in settlement construction in the West Bank and the passing of the Regulation Bill.

The summit had been scheduled to take place on February 28 in Brussels and would have been the first meeting of the entity that manages relations between Israel and the EU.

Israeli Minister Tzachi Hanegbi had been intended to represent Israel across from Federica Mogherini, High Representative of the European Union for Foreign Affairs and Security Policy. The hope had been that the meeting would turn a new leaf in relations between the two powers following several years of unease.

However, the Europeans decided to postpone the summit until further notice, apparently in response to the Regulation Bill, which retroactively legalizes Israeli settlements on Palestinian land. The Israeli Ministry of Foreign Affairs warned recently that the legislation would bring about serious international repercussions. The EU's decision also followed the recent government approval of 5,500 homes being constructed in the West Bank.

Israeli ambassadors abroad are expecting to be called in for formal reprimands following the bill's passing.

Less than a week after the evacuation of the Amona outpost, the High Court of Justice ordered the demolition of 17 buildings in the illegal outpost of West Tapuah, which is also built on private Palestinian land, by June 2018.

The HCJ's decision was issued in response to a petition from residents of the adjacent Palestinian village of Yasuf. However, following the state's announced intention to attempt to "regularize" the outpost, the court refrained from requiring that it be evacuated in its entirety.

The legal NGO Yesh Din, which represents the legal landowners, commented that they were saddened that only 17 buildings were to be removed, adding, "The decision proves that the policy of the government, foremost of which being the Regulation Bill that passed yesterday, is a thieving policy that withholds even basic rights from the Palestinians."

West Tapuah was established in January 2000. In January 2004, the IDF demolished the synagogue dedicated to the late Jewish terrorist Rabbi Meir Kahane and his family with approval from the HCJ.