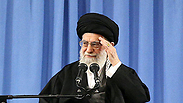 Ayatollah Ali Khamenei
Photo: Reuters
Ayatollah Ali Khamenei dismissed Donald Trump's warning to Iran to stop its missile tests, saying the new US president had shown the "real face" of American corruption.

In his first speech since Trump's inauguration, Iran's supreme leader called on Iranians to respond to Trump's "threats"—which he said had failed to frighten Iranians—on Friday's anniversary of the 1979 revolution.

"We are thankful to Mr. Newcomer (Trump), of course, since he has shown the real face of the US and proved what Iran has said for 38 years about the political, economic, social and moral corruption of the US government," Khamenei told a meeting of military commanders in Tehran, according to his website.

Last week, after Iran tested a ballistic missile, Trump tweeted that the country was "playing with fire," saying they "don't appreciate how 'kind' President (Barack) Obama was to them. Not me!"

Khamenei, who makes the final decisions on all major policies in Iran, appeared to respond to the tweet in his remarks on Tuesday carried by State TV.

"Why should we be thankful to the previous US administration?" he said. "Because it imposed anti-Iranian sanctions? Because of the extremist Islamic State group? Setting the region on fire in Iraq and Syria?"

Trump has repeatedly criticized the 2015 nuclear agreement between Iran, the US and five other world powers, in which Tehran agreed to curb its uranium enrichment in exchange for the lifting of international sanctions, but he has not said what he plans to do about it.

His administration said Iran was "on notice" over the missile test, and imposed new sanctions on more than two dozen Iranian companies and individuals.

The White House said the test was not a direct breach of the nuclear deal but "violates the spirit of that."

A UN Security Council resolution underpinning the pact urges Iran to refrain from testing missiles designed to be able to carry nuclear warheads, but imposes no obligation.

"No enemy can paralyze the Iranian nation," Khamenei said. "(Trump) says 'you should be afraid of me'. No! The Iranian people will respond to his words on February 10 and will show their stance against such threats."