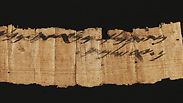 A rare archeological find in the Judean Desert
Photo: Shai Halevi, Courtesy of Israel Antiquities Authority
A Palestinian from the Gush Etzion region was caught Monda morning digging in the Byzantine site of Umm Al-Amad in the Judean desert. Volunteers from the Shomrim al Hanetzach organization detained the thief and called security forces.

With a metal detector in one hand and a shovel in the other, the antiquities robber was captured while digging in the site, located near the Gush Etzion Jewish community of Tekoa. The place is considered one of the most important Byzantine sites in Israel and was frequently excavated and looted by robbers. The site is in the Judean desert and includes large aquatic reservoirs.


The Palestinian is a resident of the nearby Tuqu' village. He was captured by Amichai Noam, head of the Judean Land Institute in the Kibbutz Kfar Etzion Field School, and Elroi Kapach, the lands supervisor for the Gush Etzion Regional Council. Both men volunteer in Shomrim al Hanetzach, a recently established organization intending to fight the growing phenomenon of antiquities' destructionin in the region of Judea & Samaria. After detaining the suspect, the two called the Supervisory Unit at the Civil Administration, who arrived on the scene accompanied by police.

"This is a living testimony of the chaos taking place in Judea & Samaria. Anyone who is out to make some easy money, buys a metal detector, and does whatever he fancies," said Noam. "This area was densely populated in the Byzantine period, but it has yet to be properly explored. If the looting continues, undisturbed, we will never be able to know what went on here."

"This time, we caught the robber red-handed, but there are hundreds more like him, and dozens of cells digging and looting. We ask the Israeli government to change its enforcement policy and start dealing with antiquities' robberies, which have become a national epidemic. In this case, a Byzantine monastery was robbed, so we hope at least the Christian world would get involved."

The organization has recently also launched a 'WhatsApp snitch group' to increase awareness and encourage hikers and citizens to report such robberies or any destruction of archeological sites all over the country.