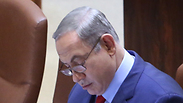 Netanyahu
Photo: Gil Yohanan
PMO says Regulation Bill 'very balanced solution' to illegal building
Prime Minister Netanyahu's office issues a statement responding to global objection to Knesset vote to approve Regulation Bill, which will legalize illegally built outposts in West Bank; 'The aim of this law is to minimize the need to destroy houses built many years ago,' say the Prime Minister's Office, stressing that it will not be used 'to expropriate land.'
The Prime Minister's Office responded Tuesday to the outpour of criticism from world leaders following the Knesset's approval of the Regulation Bill, which will legalize government-backed outposts in the West Bank.

In a statement issued by the office, it stressed that the law is intended to address a reality in which Israelis unintentionally built houses in the West Bank on land that does not belong to the state.

Netanyahu's office stated that most of the construction under discussion was carried out several decades ago, and that the new law states that the rights to the land would be transferred over to the state until an agreement is reached. It also pointed out the land proprietors will receive financial compensation exceeding the lands' actual worth or alternative nearby plots.

"This is a very balanced solution for land owners as well as for families facing the risk of evacuation and losing the home they have been living in for decades," the PMO explained. "The aim of this law is to minimize the need to destroy houses built many years ago. It is important to stress that the law will only apply to a limited number of existing cases and is in no way a license to expropriate land."

The PMO also clarified that the law will not be applicable to any cases where a court had already ruled on the matter, such as in the cases of Amona and the nine houses in the outpost of Ofra still slated for evacuation.

"Israel is a law abiding country," the PMO stated. "The State of Israel ascribes a great deal of importance to respecting the court's decisions, and it will enforce the law among all sectors of the population, as has been proven by the painful evacuation of Amona."