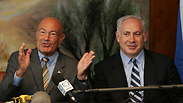 Netanyahu and Milchan
Photo: Getty Images
Report: PM says he knew nothing of champagne gifts
Channel 2 reports that Netanyahu allegedly told his investigators that he was unaware of any champagne bottles being given to his wife: 'She is an independent person, and I am an independent person'; report also claims Netanyahu said cigars never amounted to hundreds of thousands but there were boxes here and there.'
Prime Minister Benjamin Netanyahu allegedly told investigators that he was unaware of any champagne bottles being given to his wife, Sara by the billionaire Arnon Milchan.

According to report on Channel 2 broadcast on Tuesday night, Netanyahu apparently reasoned that "she is an independent person and I am an independent person."

The journalist, Amit Segal, said that when asked about the boxes of cigars which the prime minister is reported to have accepted from Milchan, he responded by saying: "It doesn't amount to hundreds of thousands as far as I can tell but there was a box of cigars here and a box of cigars there."

Netanyahu apparently insisted however, that he had no knowledge of any champagne "or other presents, if there were any, from Milchan to my wife Sara … It shouldn't be expected that on these types of issues I know everything."

Addressing the issue of the cigars, Netanyahu apparently said: "I didn't check how much every cigar cost and obviously not the overall cost over many years...I bought, with my own money, many cigars over the years."

Two-and-a-half weeks ago, it was published that Milchan claimed, when he provided his own testimony in the ongoing investigation, that Netanyahu and his wife were the ones who asked him to give them the presents.

"Pinks" was the term he claimed was used in reference to the bottles of champagne from Milchan and "leaves" was allegedly the word used to refer to the foreign cigars given by the tycoon every two weeks to the the prime minister.