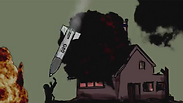 One day following the escalation in the Gaza Strip, Hamas is already trying to work its psychological warfare to put fear in the heart of Israelis, in an attempt to deter the IDF from entering a new round of fighting in Gaza.
Hamas warning video
The terror group produced a propaganda song in Hebrew accompanied by animation, titled Zionist, You Will Perish in Gaza.
The song was uploaded to YouTube on Tuesday night and shortly thereafter, spread all over the net.
Hamas' tactical propaganda, which distributes songs online in Hebrew, is seeking to deter Israelis from a new military operation in Gaza.
Hamas had utilized this method during Operation Protective Edge as well, and at the peak of security escalation in the West Bank last year.
However, more often than not, the songs have a catchy tune and a less than stellar Hebrew and quickly become viral in Israel, incurring the opposite effect, that of mockery.
The most renowned song from Hamas' production house was "Attack, Execute 'Battacks'" (illiterate misspelling in Hebrew) released at the beginning of Operation Protective Edge. The song became an online hit and naturally, the subject of mockery and ridicule.
It appears the present song will be receiving a similar dose of the same medicine.
In the present production, the song's lyrics shift from militant messages like "Be precise—hit the Kirya" (the IDF's headquarters in Tel Avv) and words that sound as though they were lifted off a Turkish sob song: "I will water you with cups of death, such a bitter drink" to motifs influenced by other fields, such as "I will eat you alive, tastes best without salt, Zionist—Yes, yes, you."
The lyrics and rhythmic beat are accompanied by animation, in which rockets are being fired from the Gaza Strip to Israel, and shoulder-fired missiles are hitting renowned Israeli institutions and facilities like the Kirya military base in Tel Aviv and the Knesset in Jerusalem.