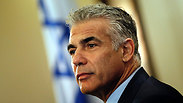 Yesh Atid leader MK Yair Lapid announced Wednesday that he has been undertaking efforts to rally former Defense Minister Moshe Ya'alon and former Chief's of Staff Gabi Ashkenazi and Benny Gantz to his party's ranks.

The announcement came during a press conference held by Lapid, who was quick to point out that "none of them are going to make a decision until elections are clearly on the table."

Addressing the ongoing investigations against Prime Minister Benjamin Netanyahu according to which he allegedly accepted expensive gifts from billionaire Arnon Milchan, Lapid said "It is forbidden to accept presents. As a public servant, I have never received gifts," adding that "the only thing I agree to accept is a book on my birthday."

Despite his criticism, Lapid was adamant that he would not support an alternative government should Netanyahu be forced to suspend himself from the government or resign.

"We need to go to elections. Every attempt to try (maneuvers) is, in my eyes, anti-democratic. I will not cooperate with any attempt to establish a new government. In my eyes it is anti-democratic not to go to elections," he asserted, emphasizing that he would not join forces with the Labor party to "create a bloc."

In the event that an indictment is submitted against Netanyahu, Lapid insisted that he should resign. "I believe in the attorney general. If there is a problem, he would say."

Outlining his policy of matters of land disputes, Lapid insisted that Ma'ale Adumim had to be part of the State of Israel in any future agreement.

"I am for building in the blocs," he declared. "It was possible to come to an agreement with the Americans on regulating construction throughout the blocs on condition of a freeze outside them."

Asked about the recently adopted Regulation Law, which will legalize thousands of homes built on privately-owned Palestinian land, Lapid posited that it was merely a ploy to shift the focus of the governmental impotence onto the High Court of Justice.

"The government is trying to push its lack of leadership onto the High Court," he stated.

Finally, Lapid offered his thoughts on comments made by Bayit Yehudi leader Naftali Bennett on Tuesday stating that the next round of fighting with Hamas was close.

"It is irresponsible for cabinet ministers to come out and say that the next round of fighting with Gaza is in the offing," stated Lapid, who was in the cabinet when Operation Protective Edge was being conducted in 2014.