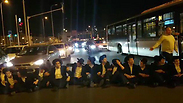 Haredi protestors blocking the roads
Photo: Barak Fachter
Lieberman moves to cancel draft agreement with unruly yeshivas
Minister of Defense Avigdor Lieberman is examining options to cancel the draft deferment agreement with yeshivas who violently protested Tuesday night; Lieberman: 'Whoever takes part in incitement against the IDF is not entitled to any benefits.'
Minister of Defense Avigdor Lieberman (Yisrael Beytenu) has begun work to cancel the draft deferment agreement with the Grudna Yeshiva and Yeshiva Ma'alot HaTorah following widespread riots and disturbances by Haredi protestors Tuesday night over the arrest of a yeshiva student for desertion from the IDF.

The two yeshivas are headed by Rabbi Shmuel Auerbach, whose followers were the prime agitators in Tuesday's riots and protests.

Haredi protests (צילום: מתי עמר TPS)

Lieberman asked fellow party member MK Oded Forer to work with the relevant government offices to cancel the subsidies allocated to the yeshivas.

"I do not agree under any circumstances for riots and incitement against IDF soldiers to become part of our daily routine," said Lieberman.

"The very existence of these protests against the draft undermines the authority of the state and we will not allow this phenomenon, or the intimidation of those who wish to draft, to occur. We will work within the framework of a range of possibilities open to us at the Ministry of Defense and other government ministries to work against those who participate in such actions against the IDF to ensure they receive no relief or benefits."

Members of the Lithuanian ultra-Orthodox faction headed by Rabbi Auerbach responded to Lieberman's statements with criticism of their own, saying that "The Defense minister is under a lot of pressure from those pushing to draft the ultra-Orthodox." They added that his threat to block funding from two yeshivas is "a harebrained idea that is reminiscent of dark and anti-democratic regimes."

Referring to the faction's long-standing refusal to enlist into the army, they continued by saying that Lieberman himself did not expect his threat to be taken seriously. "This isn't even a scare tactic on his part, since as everyone knows, members of the Jerusalem faction do not enlist, but rather adhere to the rabbi heading the yeshiva (Rabbi Auerbach—ed)."

Police responded to the widespread strife Tuesday, saying, "For weeks police have been dealing disturbances and violent riots by Haredi protestors in Jerusalem." The statement continued by saying that "Protestors reached their peak last night and included stones being thrown at police in addition to other objects, setting fire to trashcans, blocking traffic and violent actions against police, which led to several injuries. As such, police were required to use reasonable force to maintain peace and safety and 18 riot suspects were arrested in Jerusalem."

In Jerusalem, hundreds of protesters flooded into the streets and managed to block the main Bar Illan Junction while others attempted to block another road in the capital before being dispersed by police.

By midnight, 49 had been arrested, but the number of offenders soon rose to 67 as the nature of public disturbances descended into rock-throwing and setting garbage cans alight.