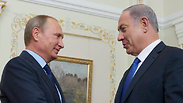 Putin (L) and Netanyahu
Photo: AP
Russian Ambassador to Israel, Alexander Shane, said that his country is working to prevent the transfer of Russian weapons to Hezbollah.

During an interview with the Interfax news agency, Shane noted that Israel presented Moscow with its "red lines" and shared concerns about Russia's cooperation with Iran and Syria.

According to Shane, Israel presented red lines to the Russians about events in Syria, the most important of which were the transfer of modern, advanced weapons to Hezbollah and the establishment of an anti-Israel base with Iran in the Syrian Golan.

"Russia explained to Israel how it thinks the crisis in Syria can be solved in order to unite all forces in the war against terrorist groups and establish a steady future for Syria by Syrians themselves," said Shane.

Shane added that Israel understands was his country is doing in Syria, "but for them, the best thing that can happen is cooperation between Russia and the United States—and not Russia and Iran—to solve the crisis in Syria and the fight against terrorism in the Middle East."

According to Shane, "Israel sees Iran as the biggest threat and cause of instability in the region." he added that "Russia promised Israel that Russian weapons will not make it to Hezbollah. Israel wants a deal between Russia and the United States to end the war in Syria."

A Wall Street Journal report claimed that the Trump administration is trying to find ways to break up the military and diplomatic pact between Russia and Iran. The report relied on the words of a senior official in the administration as well as statements from European and Arab officials who are involved in the matter.

"If we can drive a wedge between Russia and Iran, it's an option we have to check," said that same American official.

According to the same Wall Street Journal report, the White House has no illusions about Russia and does not think President Vladimir Putin is a "choir boy." However, the real question, according to European officials, is what Putin will demand from Trump in return for weakening his alliance with Tehran.