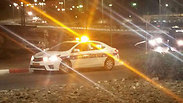 Iron Dome intrcepting one of the rockets
Photo: Meir Ohayon
Four rockets were fired at the southern city of Eilat on Wednesday night from the Sinai Peninsula, with three intercepted by the Iron Dome missile-defense system and fourth falling in an open area. Earlier in the evening, an errant mortar shell from Syria fell inside Israel, with the IDF attacking a Syrian army post in retaliation.
At 10:54pm, a Code Red rocket alert was sounded in the city, followed by a second siren a minute later.
Iron Dome intercepting one of the rockets (צילום: פבל קנור, הרצל יוסף)
Israel's air defense system, the Iron Dome, successfully intercepted three of the rockets that were fired from the Egyptian territory, where ISIS-affiliated terrorist fight against the regime. The fourth rocket landed in an open area, causing no damage.
Fragments from the intercepted rockets were discovered in a swimming pool in the city.
The last time rockets were fired at Eilat was during Operation Protective Edge, in July 2014. At the time, two rockets managed to strike at the center of the city, one of them near a hotel. Ten people were injured and 13 suffered from shock.
Syrian war spillover in north
Earlier in the evening, a mortar shell fired from a tank in Syria exploded in open territory in the Golan Heights along Israel's northern border. The IDF attacked a Syrian army post in retaliation.
The IDF believes the shell was not intentionally fired at Israel, but was rather spillover from the fighting near the border between the Syrian army and rebels trying to topple Syrian President Bashar Assad.
A Syrian official told Lebanese TV network Al Mayadeen that "the Israeli attack was done using a helicopter that launched a missile from Israeli territory towards structures in Madinat al-Baath in Quneitra."
He said the army post that was targeted was facing posts of the al-Qaida affiliated terror group Jabhat al-Nusra. No injuries were reported.