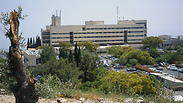 The Ziv Medical Center in Safed
Photo: Avihu Shapira
A day with wounded Syrian kids hospitalized in Israel
Dozens of children, who were raised on the belief that Israel is as bad as Satan, are receiving life-saving treatments at the Ziv Medical Center in Safed after escaping the pain and suffering of the civil war in Syria. 'I was afraid to come to Israel because I was afraid of the Jews, but now I'm not afraid at all,' says a 10-year-old boy whose hands were saved by Israeli doctors.
Seven-year-old A. sits in the isolation room at the Department of Pediatrics at the Ziv Medical Center in Safed. She is waiting for another surgery after undergoing quite a few treatments at the Israeli hospital.

A. is not a regular patient. She arrived at the Pediatrics Department after being critically wounded by shrapnel in an explosion near her home in Syria. Her concerned mother is sitting next to her. They arrived together from their small village, which got caught in the middle of the civil war in the country. Two war refugees alone in an enemy state, and all they have is each other.

"The girl arrived at our trauma room last November on a Saturday morning," says Dr. Lili Hayari, a senior surgeon at Ziv's Pediatrics Department. "I was called in from home and found a critically wounded child, with injuries mostly to the abdominal cavity, where she suffered a direct hit. Her intestines were perforated. She was brought here after the hospital in Quneitra failed to stabilize her condition. We immediately sent her into a life-saving emergency operation, with two teams doing everything possible to save the girl. A surgical team stitched and patched up the abdominal cavity, and an orthopedic team operated on her right elbow, which was crushed by shrapnel that infiltrated the area and destroyed vital tissue."

Since then, the girl has undergone another series of operations. Doctors believe her condition is improving and she is expected to recover and return to her village in Syria.

A. is one of dozens of Syrian children who arrived at the Israeli border over the past two years and were rushed from there, with the IDF's help, to the Ziv Medical Center.

Since arriving in Israel, the girl and her mother have been cut off from all their relatives. "I don't know what's going on with my husband, with my parents and siblings, with our entire family and our neighbors. I know nothing," the mother says. "I don't even know if our village still exists. It may have been destroyed."

She only managed to get through the long period in which her daughter was hanging between life and death thanks to the support of other Syrian mothers who are in Israel with their own wounded children.

"The children come here with no referral, with no records," says Dr. Hayari. "We don't even receive their blood type. Often, during our immediate life-saving efforts, we also have to learn the essence and severity of the injury. We have to start from scratch and hope that we can give them the best medical care possible."
'I can only pray that my children are alive'
Ten-year-old J., who arrived from a different Syrian village after accidentally touching an exposed high voltage line, is hospitalized in the adjacent room. Both his hands were burned and turned black. His tendons, bones and the internal structure of his hands suffered serious damage. He was rushed to a hospital in Damascus, but could not be treated due to the lack of medical equipment. He arrived at the Israeli border and was taken to the Ziv Medical Center.

"I was afraid to come to Israel," he admits, "because I was afraid of the Jews, but now I'm not afraid at all."

When he was hospitalized more than two months ago, J. underwent immediate surgery to save his hands. Later, he was treated by a plastic surgery expert from the Hillel Yaffe Medical Center in Hadera, who specializes in skin transplants. His hands were plastered up to the elbows, and he had to rely on his mother and on the medical staff for every single action.

The mother, who is 26 years old, left her husband and their three other children—aged nine, eight and six—at their village. "Of course I was afraid to come to Israel," she, smiling shyly. "I was afraid of everything."

Like the other mothers accompanying their wounded children, she doesn't know what happened to her family either. "We don't have and we're not allowed to have any contact with Syria, so I can only pray that my children are alive and that they have everything they need," she says.

During my visit to the department, I got to witness a moment which J.'s mother and doctors had been waiting for for months. Throughout his entire time at the hospital, they were unsure whether the hands placed in the cast could be recovered. When the doctor removed the cast from J.'s little hands, he discovered that the boy had recovered and that his hands would heal completely after a rehabilitation process.

J.'s mother doesn't know if they will have a home to go back to after the treatment that saved her son's life is done. In the meantime, she is focusing on his treatment.
'How was he chosen of all children?'
R., a six-year-old boy, is hospitalized in the same room. He arrived at the hospital with serious damage as a result of inborn cerebral palsy, which was not treated with the required medical measures. After studying the severity of his condition and stabilizing him, the medical team began focusing on R.'s long rehabilitation process, which included learning how to walk with a walker while strapped with supported belts, prescribing eyeglasses by a child optometrist who came to his bedside, and other treatments.

The treatment of the wounded Syrians is paid by the state, but only donations from different associations make it possible to fund crutches, wheelchairs, prostheses, toys, etc.

Like all the other mothers in the department, R.'s mother is also afraid to speak. They don't share their experiences from the horror they fled with their wounded children, leaving everything they cared about behind.

In some sense, the mothers are prisoners in the hospital. Their freedom of movement is limited to the department. When they want to go out for a breath of fresh air or to take a short walk in the sun, they are accompanied by a soldier or policeman who is responsible for their safety. Their entire world is reduced to their wounded child, and to the other mothers.

The other person accompanying them is Fares Issa, a social worker who coordinates the treatment of all wounded Syrians and their parents. He is the contact who greets the wounded as soon as they arrive and accompanies the family from that moment until the child is discharged from the hospital.

"At any given moment, at least one wounded Syrian is hospitalized at the medical center," says Issa. "Not only is he hurting and suffering, he is also terrified and embarrassed to be hospitalized in Israel. My job is to calm him and his escorting relative down, mediate from Arabic to Hebrew between him and the medical team, and make sure that all their basic medical needs are met on an immediate and regular basis."

The escorting relatives, who arrive hastily with nothing but the clothes on their bodies, receive a package of basic and vital products. "We think about everything," says Isaa. "From soap, underwear, clothing and nail clippers to toys and children's books in Arabic."

The escorting relative is often a minor brother or sister, the only survivors of a family that was killed in the bombings, "and then they are in a state of post-traumatic stress and I refer them to a psychiatrist."

But although Issa is one of the only people who can really help these victims of war, he is frustrated too. "We provided a rolling walker at a cost of more than NIS 10,000 to a child suffering from cerebral palsy, we will equip him with medicine, clothes and all the instruments that will improve his life. We won't spare any effort to help him, but where will he actually go back to? Even something of his small village remains, he'll return to a destroyed place, without infrastructure, in which he will have no way of using the walker."

Interior Minister Aryeh Deri announced recently that Israel would take in, for the first time, about 100 orphaned war refugees from the civil war in Syria, but the children recovering at the Ziv Medical Center are not included on the list of those who will receive a permanent home in Israel.

Issa is not the only one finding it difficult to deal with the difference between the hospital and what is waiting for the patients once they are discharged. "I have no choice but to internalize that at a given moment I am saving lives and treating the Syrian children as if they were our own children," says Dr. Hayari. "Even more so, because in additional to the medical care, we provide all their additional needs. There is no HMO to help and complete the treatment.

"Nonetheless, I don't forget that after our extremely committed treatment, they go back to nothing. A thought that occasionally crosses my mind, as I look at these wounded children, is how lucky they are to be saved. Every time a Syrian child comes in, I ask myself again, how was he chosen of all children? Who decided that he would receive treatment and that another child would perhaps die?"

The treatment of the 900 Syrian adults and children is overseen by Dr. Salman Zarka, the hospital director. Zarka is an IDF colonel in reserves and co-founder of the military hospital in the Golan Heights.

"There is no sweeping order in the IDF to coordinate the treatment of the Syrian children here at Ziv, but that's the way it turned out, likely for reasons of convenience," he says. "We give the children and all the Syrian patients medical care beyond the defined level of humanitarian aid, which is primarily defined as saving lives and providing immediate and basic needs. We also insist on improving the quality of life, and when a person arrives with a wounded leg, the medical team will fight to save it and avoid amputation."

How do the patient-doctor relations work between Israelis and Syrians?

"As far as they are concerned, they are coming to an enemy state. They were told for years that we are as bad as Satan, while we were also raised on the verse 'Out of the north evil shall break forth,' so it has created a situation, emotionally complex and filled with two-sided barriers, that has to be solved. It's not easy and it creates natural initial fear. That's why I am so proud to show them and the world our humanity."