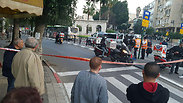 Scene of the attack
Photo: Yaron Druckman
Five people were wounded in a shooting and stabbing terror attack on Thursday afternoon when a Palestinian man opened fire on HaBaron Hirsch Street in Petah Tikva near the city's crowded market.
The shooter, a 19-year-old from the Nablus area, fled the scene but was shortly thereafter captured by civilians, who neutralized him using a sewing machine. He was then arrested by police and taken to the hospital for treatment.
The terrorist started his attack on HaBaron Hirsch Street, moving westward, all the while firing at people standing at a bus station and milling about the market.
Civilians chasing after terrorist
He then turned right on Montefiore, continuously shooting. People chased him down, attempting to neutralize him. When the terrorist reached a sewing machine shop, he started attacking people with a screwdriver after his firearm, a makeshift rifle, jammed.
Some of the people finally managed to neutralize the terrorist by throwing a sewing machine at him. Eye witnesses said that while he was lying on the ground, neutralized, he kept screaming, "Help, help."
The wounded were taken to the Beilinson Hospital at the Rabin Medical Center in the city.  
A 40-year-old man suffered stab wounds to his upper body and was in moderate condition. Another, a man around 30, hit his head during the incident and is also in moderate condition.
A man and a woman around 50 and another woman around 30 suffered from gunshot wounds to the lower extremities.
Additionally, three were suffering from shock and taken to the hospital as well.
"We heard a lot of gunfire, people were running at every direction. Some chased after the terrorist," an eye witness said.
"I saw a commotion and people running after the terrorist," Magen David Adom paramedic Azaria Cohen said. "Along with other MDA paramedics, we chased after the terrorist on motorcycles."
The paramedics noticed a man around 40 years old who was suffering from injuries to his neck, who told them he was stabbed while trying to capture the terrorist, and treated him on the scene before taking him to the hospital.
"I heard gunfire and people shouting 'Terrorist, terrorist!' The terrorist ran and I chased him for two or three blocks with four other people," Avi Asaf, who was stabbed by the terrorist, recounted from his hospital bed.
The terrorist entered a sewing machine store and Asaf followed. "He took two screwdrivers and tried to stab me. I took a chair to stop him. Somehow he managed to stab me in the ear and neck."
צילום: ירון דרוקמן