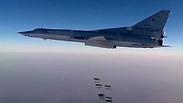 A Russian warplane "accidentally" hit a building on Thursday in northern Syria with Turkish soldiers inside, killing at least three troops and wounding 11, Turkey's military said.

"During an operation by a Russia Federation warplane against Islamic State targets in the region of the Euphrates Shield operation in Syria, a bomb accidentally hit a building used by Turkish Army units," the Turkish military said in a statement.

The Kremlin said Russian President Vladimir Putin had called Turkish counterpart Recep Tayyip Erdogan and expressed his condolences, blaming the misdirected strikes on poor coordination between Moscow and Ankara.

The incident highlighted the risk of unintended clashes between the numerous outside powers involved in Syria's complex six-year-old war. Besides Russia and Turkey, they include Lebanon's Hezbollah and other Iranian-backed militias, and members of a US-led coalition fighting Islamic State.

Russia is a key ally of Syrian President Bashar Assad, while Turkey supports the rebels opposing him. In 2015, Turkey shot down a Russian air force jet that it said had crossed into Turkish airspace, though Moscow denied that happened.

The two countries have since repaired relations, and Thursday's Kremlin statement said the two leaders had agreed to step up military coordination against Islamic State.

Turkish-backed Syrian rebels meanwhile pursued a major offensive against the ISIS-held Syrian city of al-Bab, 30 km (20 miles) south of the border with Turkey.

In other developments in Syria, the Syrian Arab Red Crescent and the Red Cross said a suspected rebel mortar attack that hit a Red Crescent distribution center in the government-held city of Aleppo Wednesday killed a volunteer and two civilians.

After years of heavy fighting, Syrian government forces drove the rebels out of eastern Aleppo in December, but the opposition still holds some areas on the city's outskirts. Fighting has continued around Aleppo and in other parts of Syria despite a Russia- and Turkey-sponsored cease-fire.