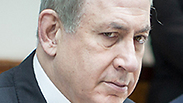 PM Netanyahu
Photo: Emil Salman
Prime Minister Benjamin Netanyahu fine tuned his own version of events regarding expensive cigars which he allegedly accepted from billionaire Arnon Milchan, saying that he had purchased many of them himself—in cash.
Netanyahu denied receiving a regular supply of cigar boxes worth hundreds of thousands of shekels from the Hollywood producer, something of which he is suspected in an ongoing investigation against him.
In response to investigators' question about who paid for the cigars he smoked, the prime minister confirmed he would occasionally receive cigars as a present from Milchan on an entirely friendly basis, but claimed that many of the cigars were purchased with his own money.
The report comes shortly after a report on Channel 2 broadcast on Tuesday night, according to which Netanyahu apparently told investigators that he was unaware of any champagne bottles that were allegedly given to his wife, Sara by Milchan.
"She is an independent person and I am an independent person," he apparently reasonsed.
According to Netanyahu's version, published on Thursday for the first time on Haaretz website, he would ask some of his office personnel to purchase the cigars for him, and then he would reimburse them in cash.
When the investigators insisted and continued asking about the cash in his possession, Netanyahu replied that he had gotten the money from a relative.
Sources close to Netanyahu have confirmed that there is indeed a wealthy relative who keeps in touch with the prime minister and has wired him funds on more than one occasion. "A man is allowed to have a relative, even the prime minister," they said.
Police tried to form a clearer picture of Netanyahu's cash purchases, partly due to the fact that they are very difficult to track.