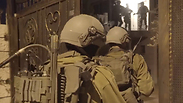 IDF enters home of terrorist's family
Photo: IDF Spokesperson's Unit
The IDF announced Friday morning that its forces entered the home overnight Thursday of the Palestinian terrorist who carried out a shooting and stabbing attack on Thursday afternoon in Petah Tikva near the city's crowded market.

Members of the terrorist's family, along with others, were questioned by the security forces who also confiscated entry permits into Israel from the family.

IDF forces enter terrorist's home (צילום: דובר צה"ל)

Five people sustained light or moderate injuries while others were treated for shock when the shooter, a 19-year-old from the Nablus area, opened fire on HaBaron Hirsch Street before fleeing the scene.

He was captured shortly after being pursued by civilians, who neutralized him using a sewing machine. He was then arrested by police and taken to the hospital in moderate condition for treatment.

In a separate overnight operation, the IDF, together with the Shin Bet, Israel Border Police and Judea and Samaria Local Police conducted a sweep resulting in the arrest of ten people suspected of involvement in terror and and nationalistic activities, disruption of public order, and violence against civilians and security personnel.

In addition, forces set out on a mission against the illegal aliens infrastructure in which six were arrested on suspicion of systematic transfer of illegal aliens from the West Bank to Israel proper.

During one of the operations, the soldiers and police found and confiscated a Carlo sub-machine gun belonging to what they said were Hamas activists from Surif.

The IDF Spokesperson's Unit also issued a statement about an attempt to illegally cross the security barrier on Thursday which was thwarted when the incident was spotted by a military observation post.

"Yesterday evening … a vehicle containing an M16 machine gun and ammunition was prevented from crossing the border fence. The gun was found inside the vehicle when...the suspicious vehicle attempted to illegally cross the security fence, which was was stopped from doing so by IDF forces that were quickly called to the scene."

Military observation point spots the vehicle (צילום: דובר צה"ל)

Military officials said that the gun was likely intended to carry out an attack in Israel.

Furthermore, during a weapons search throughout refugee camps, the IDF also found Molotov Cocktails and a large number of handgun bullets.