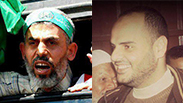 Israeli website exposes Palestinians to Hamas atrocities
New Israeli-initiated Arabic website created to inform Palestinian population of information hidden from them by their leadership in Gaza and Ramallah; first on the agenda—why Mahmoud Eshtewi, senior Hamas official was executed last year by Hamas Defense Minister Yahya Sinwar.
The Ministry of Defense has begun undertaking efforts to reveal information to the Palestinian people which is otherwise concealed by their leadership in Ramallah and Gaza by launching a new Arabic website.
The website would not only be useful to Palestinians for tasks such as downloading work permit forms, etc, but it will also facilitate the communication of Israel's message directly to the people.
This new online platform would be joining other similar sites in Arabic, such as Twitter and Facebook, used for similar purposes.
The site created on the orders of Defense Minister Avigdor Lieberman and the Coordinator of Government Activities in the Territories (COGAT) Maj. Gen. Yoav (Poli) Mordechai, with the ultimate goal of exposing Palestinians to events and matters hidden by their leadership.
Part of the site's projects will consist of the uploading by the COGAT unit of in-depth articles on the various events taking place in the Palestinian arena.
These articles will predominantly be intended to discredit Hamas in Gaza, their actions and general conduct.
One of the articles entitled The First Strike, for example, deals with the execution of Mahmoud Eshtewi, the Zeitoun battalion commander in Hamas' military wing, a year ago.
He was executed by a senior official of the terror organization Yahya Sinwar, who became known as Hamas' Defense Minister in the Gaza Strip.
After Eshtewi was arrested and accused of moral turpitude and corruption, the organization made sure to leak information regarding his sexual orientation, accompanied by other rumors that he was a Shin Bet double agent, and that he was the man who had revealed the location of the head of Hamas' military wing, Mohammad Deif during Operation Protective Edge.
Eshtewi's family attempted to start a wave of protests against Hamas leadership but their efforts were quashed by the apparently forceful.
The website claimed that the real reason behind Eshtewi's execution was his harsh critique of Sinwar's people in the Hamas' military wing to the leaders of the terror organization, with whom he was directly connected at the time.
According to the article The First Strike however, Sinwar was afraid Eshtewi might gain power at his expense and decided to have him executed any way possible.
The fact that the website chose this particular event as its top story (to damage Sinwar's position in the terror organization) attests to Israel's underlying intention to expose incriminating and embarrassing information about the Hamas leadership to the Gaza population in order to possibly foment some form of protest.