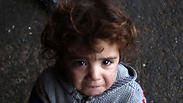 A London synagogue will devote part of its structure to the construction of living quarters for Syrian refugees, according to a BBC Arabic report.

The report, which has been circulated on Arabic social media pages, is part of a continuing initiative by synagogue members to provide aid to refugees from Syria. Currently—following fundraising efforts—synagogue members have begun construction on the section of the synagogue that will house the refugees.

According to the report, one family has already moved into the synagogue and community members are providing aid to other refugees by raising funds and financing temporary residences in London.

Operations at the synagogue are expected to continue as usual, including prayers.

The South London Liberal Synagogue had already launched a crowdfunding campaign, which tried to raise £50,000 for the cause.

Chair of the Synagogue Council, Alice Alphandary, told the Guardian that, "For me, this is a very personal subject. My father was a refugee in the 50s and now this is an opportunity to help the refugees of today."

The project itself is called "Araham's Tent," named after the story according to which Abraham's tent had four openings as an invitation to all. Alphandary added that "in Judaism, hosting is nearly a religious duty."