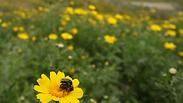 Nature in Israel
Photo: Avi Moalem
The Israel Nature and Parks Authority (INPA), in cooperation with Israel's Ambassador to the UN, Danny Danon, are putting on a photo exhibition at the UN headquarters in New York.

The exhibition will feature 30 photographs taken by Israeli photographers and reflect the obligations of the INPA such as protecting endangered species, maintaining the landscape, water preservation, conserving the Mediterranean and more.

The INPA added that due to Israel's geographic characteristics and its unique climate, Israel is a zone of great importance for the protection of biodiversity.

"We are proud to present the beauty of our country to the UN," said Ambassador Danon before the opening of the exhibition. "Israel takes a significant part in global environmental protection and nature conservation efforts and this is an opportunity to show the world the beautiful side of Israel."

"As part of the global effort to promote nature conservation, we are proud to present a small part of Israel's rich natural blessings to the UN," said the Director General of the INPA, Shaul Goldstein. "We have many rare natural resources and we must continue to protect them for future generations."