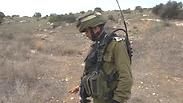 IDF tracker
Photo: Roee Idan
An IDF project is providing training for military scouts in identifying animals and behavior patterns in the wild as part of their efforts towards environmental preservation.

The project is a joint initiative of the IDF and the Society for the Protection of Nature in Israel (SPNI) with the collaboration of the Nature and Parks Authority, and it began three years ago. Today, 25 various IDF unites participate across the country. According to the chief of staff, its purpose is to change the way in which the army operates and relates with nature and the environment. In the project, the scouts operate nearly the same way as rangers.

As of now, around 30 scouts have completed the program, including senior officers, at the course held at the Scouts' Training School at the Lachish Training Base.

Eldad Peled of the Nature and Parks Authority explained, "Scouts are out in the field and pass on information about wildlife. That information has great value, because there are many places that we can't visit. So the information about the types of animals and hours of operation is far more important to get a snapshot of the future of nature in the country."

"I love nature, and protecting it is important to me, especially for rare animals and plants," said Master Sgt. Shovel Shibli, a scout for 15 years who has gone through the program. Sgt. 1st Class Taysir Okla explained that there is no way that a scout can make mistakes in animal tracks, and when terrorists try to camouflage their own tracks as those of wildlife, the scouts identify them without problems.

The military is still considered one of the worst polluters in the country. About half of the country's territory is under its control. This project opens a long path for change in the way that the IDF interacts with the environment. Today, training exercises are planned with environmental concerns taken into consideration. If, for example, a rare bird's nest is discovered next to a shooting range, the IDF prefers to train elsewhere.

Peled explained, "It's not obvious that the Israel Defense Forces will stop and tell its soldiers, 'Look out for wildlife, protect the environment.' I don't know of other armies in the world in which something like this takes place, and it's admirable."