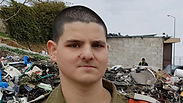 Roditi at the scene of the event
Photo: Yoav Zitun
Seriously wounded soldier returns to scene of attack
Lt. Shahar Roditi, who was injured last Remembrance Day by an explosive device intended to blow up a civilian bus, chooses to return to service for the months he has remaining; he recounts the ordeal: 'I'm glad that it was I who was wounded and not the civilians.'
Seven months have passed since the Hizma bombing when Lt. Shahar Roditi was wounded by an explosive device when a large fragment from the explosion pierced the young officer's face, shattering his nose and jaw.

Today, against all odds, his is back to wearing his IDF uniform, and more importantly, back on his feet.

Roditi, a humble and unassuming officer from Nordia, near the city of Netanya, has managed to recover from his grievous injury, and while still in the process of rehabilitation, chose to return serving in the IDF, if only for the few months he has left before he finishes his service.

Returning with Ynet to the scene of the event, he recounted, "'I'm glad that it happened to me and not the civilians. This is my job, and if it weren't me, it would have been another soldier. This is what we were trained for."

After waking up in Hadassah Medical Center, groggy from painkillers with bandages covering his face, he learned what we already knew: He had been wounded from one of the nine remote explosive devices planted along the road near Hizma village.

Investigations later uncovered that the explosive charges had been intended to blow up an Israeli civilian bus.

This happened on the eve of Remembrance Day. A total of nine explosive devices were stashed alongside the road, and the terrorist holding the remote controller to them was standing nearby. Roditi, without any prior intelligence, noticed them while on patrol, and decided to stop to examine.

"I noticed an object that seemed to stand out to me, which I didn't remember seeing an hour before, and it made me suspicious. This was in a road that belonged both to Israeli and Palestinian civilians that sees a lot of traffic every day, and is dangerous as it essentially divides the village. Even right before we got there, there had been a shooting, another terrorist attack.



"I got out of the vehicle, and the other soldiers stepped out as I ordered them to secure the perimeter and behind the jeep for protection. I approached the suspicious object from the other side. Then the explosion happened. I remember very little of what happened later.

"I remember standing, and then I was suddenly lying down. My chest felt hot, and I realized I was probably bleeding out. The deputy commander got me back into the armed car, and I was later evacuated by ambulance, where I was given first aid and morphine. I don't remember anything after that, not until I woke up in intensive care," he recalled.



He then added, "I didn't even know where I was. In the ambulance, I knew I might die, but it could have been much worse, with 60 casualties after a bomb blew up a bus. Now that I'm here again, I'm glad that only I got hurt and not the any of my soldiers or any civilians. This is my mission, and I would do it again. Our awareness prevented a much bigger disaster."

Roditi's parents did not object to him returning to serve in his battalion as a special staff officer due to his severe injuries. "My brother is a soldier as well, so when they heard the knock on the door in the middle of the night they didn't know which one of us was involved. My two younger brothers are also going to be combat soldiers, because this is the upbringing we had," he said optimistically.



During the interview, Jewish civilians were brining their cars for repair in Palestinian garages in the village, as if no terrorist attack had taken place there last year. Roditi responded naturally, "This is a very complex sector, and when you're in charge of it, you must remain at top vigilance. You need to be prepared for the unexpected, whether there are terrorist attacks or not."

Roditi said that he intends to continue serving as an officer in the reserves after his approaching discharge. Meanwhile, he will undergo additional surgeries. "The doctor told me after the incident that the bones in my face were gone, crushed, and that she would try to save the soft tissue. She told me that she saw my eye throu my mouth, and that I'm lucky to not have gone blind," he said, smiling.