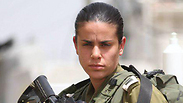 Maj. Dana Ben-Ezra
Photo: Gadi Kabalo
In an unprecedented move, Maj. Dana Ben-Ezra was appointed Deputy Commander of Battalion 47, which is still being established and in the process of recruitment. The battalion is yet to be named.

Ben-Ezra, 32, from Beit Yitzhak in the Sharon plain, is currently in the Combat Intelligence Collection Corps, where she served since her enlistment. She is currently serving as an officer in the Operations Branch at General Headquarters of the Shahaf 869th Battalion, which is in charge of observations on the border with Lebanon.

Ben-Ezra enlisted in 2003 and began her service as a lookout in the Gaza Strip, where she was commended for her actions when a terrorist broke in to the Natzerim army base.

In her interview with Ynet five years ago, after she decided to return serving in the army, Ben-Ezra said that "after a while, I learned that in no place in civilian life would I be able to take young talents, command them, shape them, and instill in them values and a love for the country.

"In civilian life, you have a lot more independence and personal freedom. Work ends at five, and after that you have the rest of the day for yourself," she added. "In the military, there is not really any such thing as vacation, holidays or weekends. Twenty-four hours a day, 7 days a week, 365 days a year, I give my all to the system.

"With all the difficulty of it, it's all worth it for those small moments. Like when an operation was uniquely successful or one of my soldiers accomplishes something she never thought she could," said Ben-Ezra.