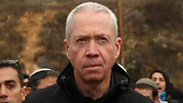 Galant
Photo: Ohad Zwigenberg
A 16-page document presented on Sunday by Minister of Construction Yoav Galant during the Cabinet Meeting offers a far-reaching political and strategic plan, whose ultimate goal is to block the growing Iranian threat to Israel's northern border.

Galant, who is a member of the Security Cabinet and a Maj. Gen. (res.), plans to thwart the formation of an Iranian-Syrian-Lebanese "axis of evil."

It would be in Israel's best interest to prevent a Shiite hegemony in Damascus, impede the formation of a corridor between Iran and Hezbollah and push toward recognition of Israeli sovereignty in the Golan as part of a future settlement with Syria.

Implementation of the plan, surmised Galant, would also be of interest to the US, Russia, Europe and the moderate Sunnis—who are supposed to serve an integral part in the plan's execution.

According to the plan, the US will lead a global coalition, some form or other of "task force," to rehabilitate Syria with an investment of dozens of billions of dollars.

The Russians will make this possible in exchange for international recognition of Moscow's centrality in the plan and its right to maintain a stronghold in the Middle East, the center of which is occupied by Syria. The war-torn country's rehabilitation with the assistance of international funding will be contingent upon Syrian recognition of Israel's sovereignty in the Golan.

Galant proposed that Trump's administration conditions the monetary investment by having the Russians block Iran's involvement in Syria. The US and Israel will support the replacement of President Assad—as long as it serves Russian interests.

The Iranians currently hold complete or partial control of four capitals: Tehran, Beirut, Bagdad and Sana'a, and their power is gradually growing in Syria through their ally Assad and the assistance of Hezbollah and other Shiite militias.

A northern Israeli border under Iranian-Shiite control and Russian protected centers of power in Damascus paint a dangerous scenario for Israel.

Galant's plan is designed to prevent the Golan from becoming another front in the Iran-Israel conflict.