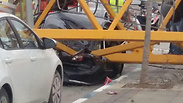 Crane accident in Bat Yam
A crane crashed down on a construction site in the city of Bat Yam Monday afternoon, crushing a car and injuring four people.

Among the injured are a 49-year-old man and his 9-year-old daughter who were lightly injured from fragments from the crash, a man who stood near the crushed car who was moderately injured, and the 38-year-old crane operator who was crushed inside the car and seriously injured as a result.

Crane accident in Bat Yam

Magen David Adom said that the four were treated at the scene, and that crane operator was rescued from the car and rushed to the nearby Wolfson Medical Center.




According to preliminary data, the crane appears to be new, and had apparently beem stationed at the site just two weeks ago. The Investigation will focus on whether it was built and set up according to code.




This is not the first time an accident of this nature occurred. A few months ago, the ceiling of a parking lot in Ramat HaHayal neighborhood in Tel Aviv collapsed, killing 6 and injuring 24. This was followed by protests by construction workers, who warned about the industries oversights.

Following the parking lot's collapse, 240 crane workers quit in protest of their hazardous work conditions. Their resignations were then followed by a protest comprised of hundreds of construction workers in front of the Knesset, about the industry's safety violations and lack of precautions on the job.




Histadrut Labor Federation Chairman Avi Nissenkorn commented on the accident, saying that "The lack of oversight regarding work safety in construction is unacceptable. A work dispute was announced a week ago. If the relevant authorities do not act immediately, we will not hesitate to take organizational action within the entire Israeli field of construction. Enough with the contempt for human lives."